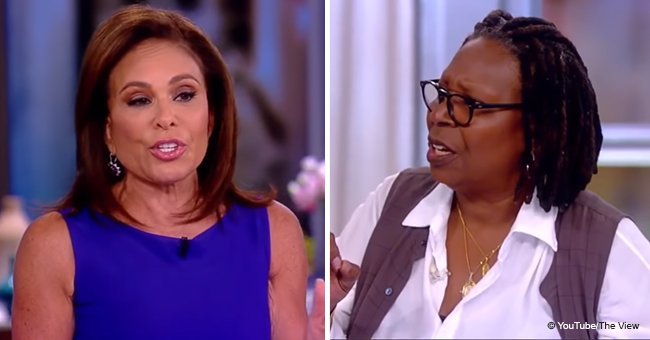 Jeanine Pirro and Goldberg heatedly debate on 'The View': 'Whoopi, I fought for victims my whole life.'

Last Thursday saw The View's co-host Whoopi Goldberg embroiled in a spat with guest Judge Janine Pirro. The former judge was on the show to promote her book.
Instead of talking about her book, Pirro and Goldberg ended up exchanging words when the former judge insulted the co-host. According to Pirro, the fight carried on behind the scenes.
Pirro, 67, who hosts Justice with Judge Jeanine on Fox News, was on The View on Thursday to promote her new book, Liars, Leakers, and Liberals: The Case Against the Anti-Trump Conspiracy. At one point she and co-host Meghan McCain discussed President Donald Trump's popularity among Republicans.
Goldberg, 62, said she had a question to which Pirro told her she had "Trump derangement syndrome." This is a term used to describe those who are very critical of Trum
For more on this story go to our Twitter account @amomama_usa. Goldberg responded by saying, "Listen, I don't have 'Trump derangement' — let me tell you what I have. I'm tired of people starting a conversation with 'Mexicans are liars and rapists.'"
"There have been a lot of people in office that I didn't agree with, but I have never, ever seen anything like this. I've never seen anybody whip up such hate," the co-host continued.
"I've never seen anybody be so dismissive. And clearly you don't watch the show, so you don't know that I don't suffer from that. What I suffer from is the inability to figure out how to fix this."
Whoopi Goldberg, The View, July 19, 2018
Goldberg then tried to steer the conversation away from Trump but Pirro wanted to respond and that's when the disagreement escalated. The two had a back and forth until the co-host decided to call it off.
When the show came back, Pirro was nowhere to be seen. Goldberg apologized to her audience and wished them a great day, however, behind the scenes, the spat carried on according to the former judge.
Pirro described the encounter on Fox News host Sean Hannity's radio show later on the same day. She claimed that Goldberg told her backstage to "get the [expletive] out of this building."
As she was walking downstairs off stage Pirro said, 'Whoopi, I fought for victims my whole life,' and that's when Goldberg repeatedly swore at her and told her to get out. The former judge was shocked and asked the co-host if she really swore at her, to which Goldberg continued swearing.
The incident, however, had good results for Pirro. During the opening segment of her Fox News show on Saturday, she addressed the incident.
Instead of being mad, she thanked Goldberg and the other co-hosts of The View for helping make her book No. 1 on Amazon and Barnes and Noble. The book has since moved from that position on Barnes and Noble, but it has kept its position on Amazon.
Please fill in your e-mail so we can share with you our top stories!