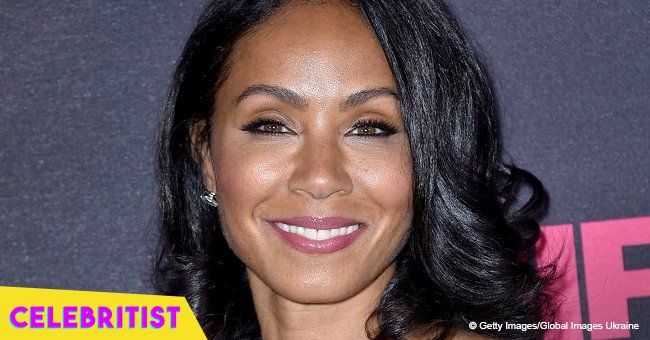 Jada Pinkett-Smith shares touching photo with her 'beautiful bonus' son
The American actress, dancer, singer-songwriter, and businesswoman has two children with her famous husband, but she also has an older stepson from her husband's first marriage.
Jada Pinkett Smith and Will Smith share daughter Willow and son Jaden, but from Will's first marriage to Sheree Zampino came another son, Trey. Despite being Pinkett Smith's stepson, the pair still have a close relationship.
She recently took to her Instagram account to share a photo of herself and Trey in a cute close-up selfie. The pair looked completely content in the image, and every bit the mother and son duo they just as well could be.
"Me and my beautiful Bonus," she captioned the sweet shot of them. Within 2 days, the post had almost 350,000 likes.
Trey seemed to be leaning over the back of a sofa to lean in close to Pinkett Smith for the shot. His mess of dark curly hair took center stage in the image. He wore a navy blue shirt, while Pinkett Smith had on a knitted grey sweater.
Trey's mother and father married in the early 1990's, when he was still working on The Fresh Prince of Bel-Air. He was born just a few months later.
Their marriage deteriorated when Will became a megastar, and both admit today that they were too young and immature to deal with marriage and the demands of fame.
Even though his parents are divorced and he has a strong relationship with his stepmother, Trey is still close to his mother as well. Zampino recently shared a selfie of them herself.
In the image, in which Trey is sitting behind his mother, and while Zampino is smiling away at the camera, Trey is pulling a face that makes him look exactly like his famous father.
While Pinkett Smith and Zampino had a hard time with co-parenting Will's oldest son initially, they came to an agreement eventually to make life easier for everyone involved, reported Huffington Post.
Pinkett Smith and Will had started dating before he and Zampino were officially divorced, causing plenty of bad blood between the two women.
"In hindsight, because I did not understand marriage, I did not understand divorce ... I probably should have fell back," Pinkett Smith confessed.
Fortunately, they were able to bury the hatchet, which gave Trey an opportunity to remain close to his dad, and be a big brother to his half-siblings.
Please fill in your e-mail so we can share with you our top stories!