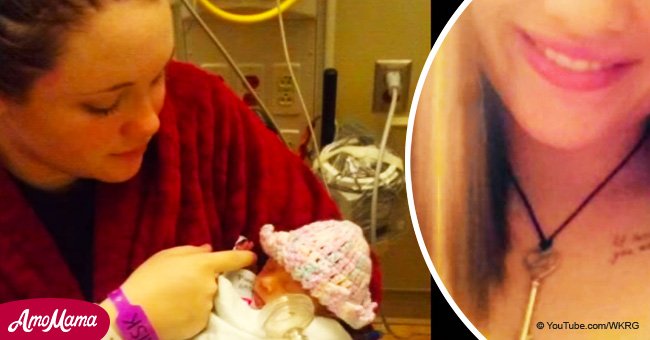 Mom pleads with public to help find stolen necklace containing daughter's ashes
Molly Little, a mother from Alabama, is desperate to find a very special necklace containing the ashes of her daughter, Autumn, who passed away at 6-weeks-old.
On Wednesday, July 18, 2018, Little took to Facebook to ask for help finding the necklace, which has been stolen from her after her home was burglarized three weeks ago.
According to the Facebook post, Little came home and found her bedroom window open, which made her heart race. As soon as she walked in, she saw the mess that the burglar had left.
Her whole house was upside down, with empty drawers lying on the floor and their contents scattered everywhere. But the necklace was the only thing on Little's mind.
Please consider following us on our Twitter account @amommama_usa to learn more.
Although all of her jewelry was gone, she said that the pieces were mostly sentimental and that they didn't have any real monetary value, much like the key necklace.
When Autumn passed away, due to a heart condition, Little had the necklace specially made to hold her ashes since she wanted to keep her daughter's memory alive.
Autumn was a twin, and her sister, Hannah, is currently a healthy 5-year-old girl. Even though Autumn is no longer physically present, Little believes in having her two bundles of joy with her.
For that reason, she decided to use Facebook in order to spread the message that she was looking for the necklace, begging for the post to be shared to reach more and more people across the United States.
According to Little, her biggest fear is that the burglar might decide to take the necklace to a pawn shop, along with her other jewelry, being told that it isn't worth anything and throwing it away, with Autumn's ashes ending up in the trash.
Back in 2017, in Belfast, Ireland, a baby's ashes were also stolen during a burglary, but instead of a necklace, they were placed inside a bag in a small wooden box.
Please fill in your e-mail so we can share with you our top stories!