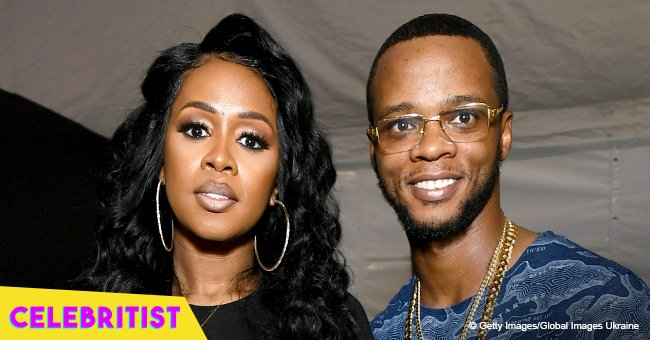 Remy Ma covers growing baby bump in backless purple dress in pic with husband Papoose
The American rapper recently shared that she is expecting her second child at the moment, but is still doing her best to keep her growing bump under wraps in photos that she shares.
Remy Ma and her husband, Shamele Mackie, better known by his stage name of Papoose, shared their happy news at the beginning of July that they are expecting their first child together. While they were happy to share their excitment, Ma is being coy when it comes to her belly.
When a woman announces she is pregnant, all eyes immediately shift to her stomach, watching and waiting for the first tell-tale signs of a bump that will confirm the news. This is even more pronounced when it comes to celebrities, and the interest in their baby bumps is heightened.
Ma is trying her best to keep the public and her fans in the dark when it comes to her stomach, and two recent photos shared to her Instagram account seem to confirm this.
On a night that she and her husband enjoyed out, Ma shared two images. But neither one was to give her followers a hint at whether her bump has started growing.
The first photo was taken from behind her, showing her in a stunning purple dress with cutouts down her side and a low back, the garment showed off her curvy body, but her stomach wasn't visible.
"Last night: Fun times with great people I was drinking Mocktails & NOjitos Dress: @nycfashionboutique #RemyMa #RemyMafia," she captioned the shot.
And while the second image showed her from the front, Ma had covered her stomach with the gold clutch bag that she was carrying. She seemed to be laughing as she looked down at her middle, while holding onto her husband's shoulder with her other hand.
The front of the dress also showed off her assets, with a cutout in the center of her chest and down to just below her bust. She had left her long dark locks loose, and had accessorized with a pair of gold hoop earrings.
Papoose wore a pair of dark jeans, a white shirt, and a maroon blazer. He also wore a number of gold chains around his neck. The couple seemed to be having a great time together.
The couple have been married for a decade already, and have known each other for 13 years. Over the weekend of July 3, the couple decided to renew their wedding vows in front of an intimate group of family and friends.
Ma decided to share a series of photo to her Instagram account to celebrate the day, and she looked absolutely gorgeous in a poofy floral dress with a train. Papoose wore a blue suit for the occasion.
Ma is a mother to one son, Jayson, who was born in 2000 from a previous relationship. She is also a stepmother to Papoose's three children.
Please fill in your e-mail so we can share with you our top stories!