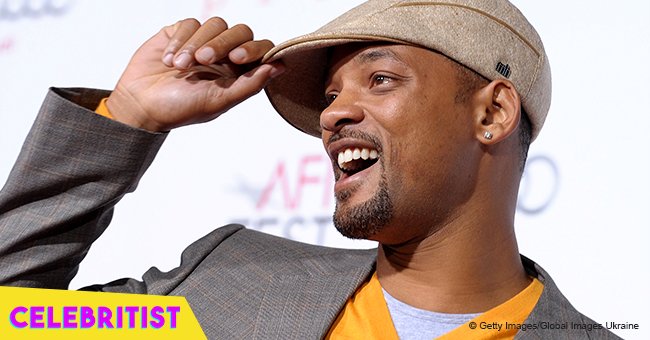 Will Smith poses with his look-alike daughter next to the sea in new vacation photo
The Smiths are currently in the middle of a well-deserved vacation through Italy, and Will has taken his followers behind the scenes by sharing several pics of videos of their adventures.
Will Smith has become an Instagram sensation since he opened his account last December, and in the eight months that have passed since then, he has outsmarted every single influencer with his diverse content that goes from selfies, throwbacks and family pics to pep talks and crazy challenges.
The Fresh Prince has had an incredible year. He recently appeared on the closing ceremony of the FIFA World Cup performing the official song "Live It Up" next to Nicky Jam and Albanian singer Era Istrefi, and he just finished shooting his next film, "Gemini Man."
After five months traveling around Europe to film the movie, which is set to hit theatres on October 2019, Will is now enjoying a relaxing time while cruising around the Amalfi coast on Italy in a luxurious boat with his family.
Jada Pinkett Smith, Willow, Jaden and Trey, his son with ex-wife Sheree Zampino, joined the superstar to enjoy several activities that include scuba diving, hiking an active volcano and swimming in the Mediterranean turquoise waters.
Smith shared a beautiful family portrait to mark the start of the family vacations, and later, posted a selfie with his 17-years-old look-alike daughter as they flashed huge smiles to the camera.
Willow is seen sporting her usual dreads with blue ribbons on them, black glasses and a black top. Will, on the other hand, kept it casual with a gray sweater with nothing underneath.
"Me & My Bean catching up. I've been away working for MONTHS!" the actor wrote in his caption.
The Smiths went scuba diving per Will's request, and he shared a video of the experience, making fans laugh when the camera panned Jaden's confused face as his father shared his knowledge on the underwater activity. Willow said in the video she was ready to try it, calling herself an "adventurer."
"My dad is crazy," said Jaden, "but that was amazing." "That was the craziest thing I've ever done," added Willow.
The family also went hiking to an active volcano on the Vulcano island in the Tyrrhenian Sea, and Will described the experience as "wild."
We can't wait to see what other adventure will the Smiths have while on their Italian vacation.
Please fill in your e-mail so we can share with you our top stories!