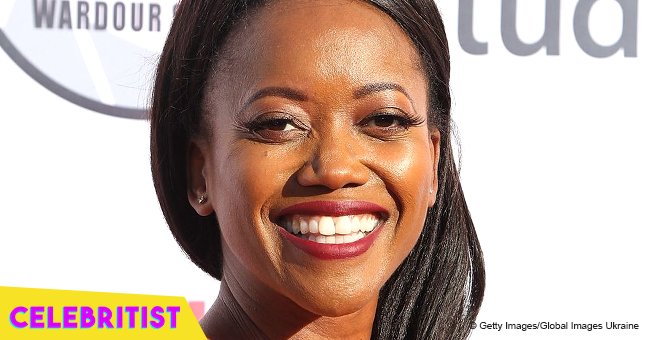 Erika Alexander rocks braided hairstyle and striped turban in photo with Boris Kodjoe
The American actress took to her social media account recently with a photo of a close friend after the pair had a chance encounter while traveling.
Erika Alexander has been a good friend of Boris Kodjoe for many years now. On July 23, the pair ran into one another at Philadelphia International Airport, and she shared a sweet selfie with her fans.
In the image, Alexander had her hair done in long braids, a bow tied atop her head, and a broad grin on her face. She appeared to be wearing a denim shirt.
Kodjoe wore a light colored t-shirt, and a white hoodie over it. He was carrying a backpack.
Alexander decided to get the image a nostalgic feel by giving it a black and white filter.
"Guess who I ran into at The Philly airport?! My friend @boriskodjoe He and @nicoleariparker were speaking at Princeton lifting young women and being their superhero selves! Xo! Xx e." she captioned the shot, which was a repost.
Plenty of her fans flocked to the comments section to share their love for both Alexander and Kodjoe, gushing about how gorgeous they both are.
"@erikaalexanderthegreatAll that fineness next to you and you're that calm...?" wrote one fan, while another added, "Do you age? I feel like you stopped at 26. Soooo beautiful!!!"
Alexander recently teamed up with her former castmate from Living Single, TC Carson, for a mini-reunion to celebrate 25 years of friendship since the show started.
The 48-year-old, who portrayed sassy lawyer Maxine Shaw in the hit 90's sitcom, posed alongside Carson, who played pretentious stockbroker Kyle, and teasingly smirked in one photo.
"Toasting 25 years with a good friend," Alexander wrote in the caption.
In the second image of the post, she leaned in and allowed her co-star to land a kiss on her cheek as she smiled in delight at the precious moment.
Meanwhile, Kodjoe recently celebrated his own anniversary: that of 13 years of marriage to his wife Nicole Ari Parker.
He took to Instagram with a cute video of them dancing together, with his wife wearing a gold tassel dress for extra dramatic effect, while he watched her shake her hips to the tune playing in the background.
In the caption, he wrote a beautiful tribute to her.
"For we are doing our own dance, a mysterious and adventurous one, God blessed and favored, through sickness and in health, in joy and in pain, and there's no one I'd rather share this beautiful dance with than you. Happy anniversary @nicoleariparker," he completed the caption after sharing his thoughts on the number 13.
Please fill in your e-mail so we can share with you our top stories!