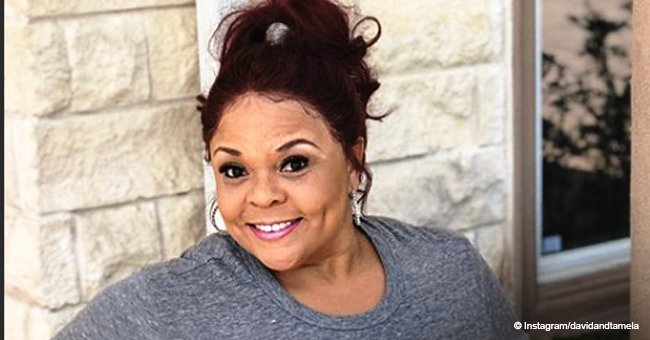 Tamela Mann rocks tight black maxi dress at Essence Festival after major weight loss
The Grammy Award winner looked stunning wearing all black as she took the stage at the Essence Festival to take the audience to church. After going through some struggles because of their overweight, Tamela and her husband have come a long way on their weight loss journey.
Tamela and David Mann are better known for their appearance in Tyler Perry's plays and series such as "Meet The Browns" and "House of Payne" but Tamela also has a steady career in the gospel genre, and has earned several important accolades for her incredible talent in the industry.
The couple recently celebrated their 30th wedding anniversary, and after all this time they're still crazy in love with each other and showing a strong front in and off cameras. When they attended this year's Essence Festival, Tamela and David took the stage in several occasions, both as singers and motivational speakers
When Tamela's time to take the audience to church with her singing came, she was rocking a wrapped up tight black maxi dress with lace details on the sleeves and black tight pants underneath that enhanced her curves perfectly.
The 52-years-old and her husband, who went for a more casual approach on his outfit, were all smiles as they entertained the New Orleans audience, and they shared several pics and videos of the Festival to their joint Instagram account, promising to be there next year as well.
Fans of the couple didn't hesitate in showering with praises on their comment section, as the couple has shown an incredible weight loss in the past years. Instagram user @sonyasnipes33 wrote "Tamela you are so beautiful," and @jaestaydown added, "You guys really are the black dream!!!!!"
David and Tamela set an example for many couples out there, and speaking to Madame Noire a few years ago, they revealed that the secret relies on understanding that their marriage comes first no matter what, and since they work together, is a good reminder they always have in mind.
"The way that we keep our personal and professional lives together is that we don't mix the two. When we're at work, we're at work. When we're at home, we're at home," David said.
"And see, we never try to balance our marriage, our personal lives, our relationship, we never try to balance it with this entertainment business because we're not going to give anything the same weight as our marriage or our relationship. None. Doesn't compare."
They have been together through the ups and downs, and when David was diagnosed with type 2 diabetes in 2007, Tamela knew they needed to make some changes in their lifestyle in order to take care of their health.
On an interview with Diabetes Forecast back in the day, the Manns explained they started with small steps such as ordering a salad instead of fries or grilled instead of fried chicken. "I went cold turkey: no sugar, no soda. I went a little bit overboard," David explained.
"Once he decided what he was going to do, he started changing his own diet. For African American families, a lot of the time when we sit down to dinner, we can have two or three starches in one meal," Tamera added. "You can still have some, but you don't have to have as many."
Tamela revealed on a Q&A session on Twitter a few years ago that she always was "good enough to be heard but not seen," but she has lost over 200 pounds in the past years and is all thanks to the constant work and the right mindset that she has achieved her weight goals, even though she still has a long way to go.
Please fill in your e-mail so we can share with you our top stories!