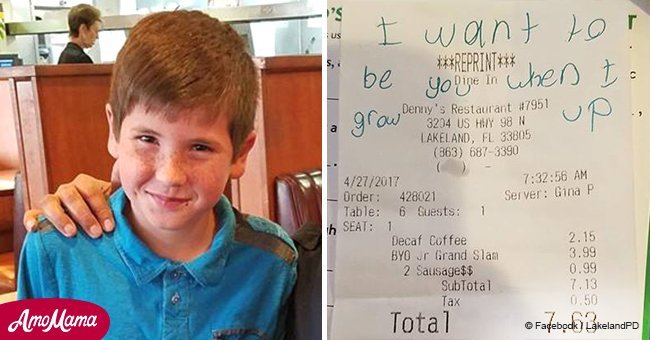 9-year-old boy buys cop breakfast and leaves him a touching note
Nine-year-old Noah came up with a unique way of paying respect to police officer Eddie Benitez, which completely stunned the law enforcement officer.
Lakeland Police Department took to Facebook to share the young boy's surprising effort at expressing his gratitude toward the police officer.
Noah was with his mother at a local restaurant when he saw Benitez sitting by himself and enjoying his breakfast. The young boy wanted to approach the officer because he dreams of becoming a police officer someday, but was nervous about initiating conversation.
Then he came up with a plan to impress the police officer and told his mother all about it. Together, the mother-son duo made the officer's day by showing a simple act of respect.
Noah used the money he had been saving for his birthday to pay for Benitez's breakfast. On the receipt, he even left the officer an emotional note and a heartfelt message of respect.
The receipt of the officer's breakfast bill had a simple message, 'I want to be you when I grow up. Thank you for your service.'
Noah then walked up to the officers and hesitatingly handed him over the restaurant receipt. Benitez was absolutely floored, and he demanded to take a photograph with his biggest fan in the world.
The small message from Noah made a big impact on the officer's day, and probably his life. Those few words of appreciation would remain with him forever because it reminded him how important his service was.
"It meant everything. It meant that I'm supposed to wake up every morning and put on this uniform and go out there and do what I do. You know? It means that I need to keep trying to be a good example to all these young guys, " Faith Tap quoted the officer as stating.
Please fill in your e-mail so we can share with you our top stories!