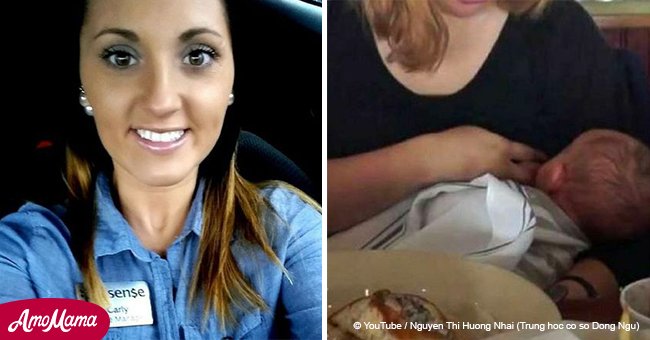 Mum threatens to punch mother and baby for breastfeeding in public
Manager of a Petsense location, Carly Clark, received flak from mothers online after her Facebook post attracted worldwide attention.
Clark posted a Facebook update threatening to punch any woman who breastfed their children in front of hers. She believed that it was not right for any mother to breastfeed their child in public.
Comments ranged from anger to sadness and questioned Clark's employers' responsibility to keep her employed despite her threatening a mother for nursing her baby.
The company took to Facebook via a post mentioning that they expect its employees to treat every customer with respect.
Petsense added that their employees were expected to be ethical and maintain the highest standards of personal behavior. Read more about Carly Clark on our Twitter account @amomama_usa.
In her post, that was eventually removed, Clark stated she would give a black eye to any mother who tried to breastfeed in front of her children. In her rage-filled post, she said that she would also not mind punching the baby.
Her post received backlash instantly. One user, Lisa Nashold, explained that breastfeeding was a natural, beautiful, and healthy way to feed children and should not cause any anger.
Another user, Mariam, expressed her anger towards Clark's post and said that she would not tolerate anyone touching her baby. She said that shaming women about their breasts create such ill-conceived notions about breastfeeding.
Clarke did not hold back after the furor created by her post. She said that nursing moms who were not sensitive to the folks around were of poor character.
Petsense established that they did not tolerate violence in any shape or form aligned to the statements made by Clark.
They distanced themselves from the controversy by mentioning that the views expressed by Clark were the individuals own and expressed their regret and apologized for all the discomfort caused by the statement.
Petsense soon announced that Clark was no longer an employee of Petsense and once again apologized for all the pain caused by her post.
Last month, a mother in Alabama who was nursing her baby was told by a restaurant worker that breastfeeding was 'offensive' and proceeded to conceal the baby with a dish rag.
Please fill in your e-mail so we can share with you our top stories!