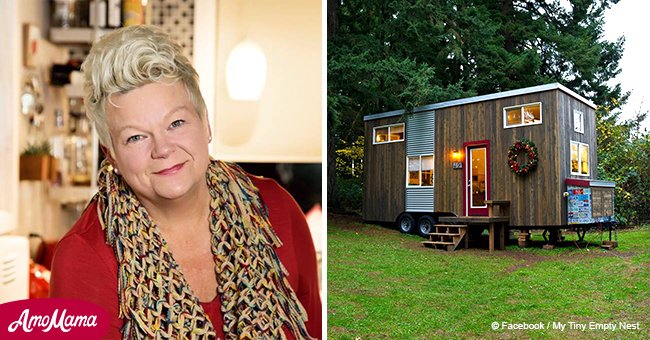 Poor single mom builds own 200-square foot home and it's simply amazing
A single mother of two children, Michelle Boyle, planned ahead for her retirement and built a 200-square foot tiny house on wheels all by herself.
Oregon Live reported that the woman began working on her dream when she was renting a house for $1,500 in Sherwood, Oregon.
It takes about a minute for a tour of Michelle Boyle's house. The 196-square-foot home on wheels contains a kitchen, bathroom, space for a washer and dryer, and two bedrooms.
Before moving into her new house on wheels, she had to pay a rent of $1,500 every month, but the new house, about an eighth of the size of the previous house, costs her $70 a month and includes electricity, water, and internet.
Follow us on Twitter for more stories like this. Visit AmoMama USA.
Boyle was inspired to build her dream home after she saw an image on Pinterest, in preparation for her retirement, and a desire to reduce her carbon footprint.
The mother-of-two lived in Sherwood for eight years before decided to do something about her living condition. She said, "Life has taught me that things don't always go as planned."
Boyle, who was adopted as a toddler, was married and divorced twice. She later separated herself from her adoptive family.
She felt that she had been abandoned many times and lost houses to divorce and had to start over from scratch. She moved to Oregon about 15 years ago with just her clothes on her back.
Spending time building her tiny house gave her a sense of permanence. Another advantage was that she did not have to pay a mortgage on the house she built herself.
Boyle wanted to free up her time and her money. "I have to start designing my life so that I can actually live off my Social Security income. The only choice I really have is to reduce my standard of living," she added.
The 51-year-old said that building her house was one of the most rewarding experiences. In fact, she did not just build it, she even designed it.
The house is 8.5 feet wide, 24 feet long and 13.5 feet high. She began by joining Tiny House, an organization that helps people build their own houses to live a simpler life.
She did have a few volunteers to help her out. Though the 'homebuilders' were no experts, they did get inputs from Google and YouTube. She began working on her house in September 2015.
Some of the volunteers did have experience in building tiny houses, for instance, Alyse Holzhausen had remodeled her home kitchen in Canby, while another volunteer, Lisa Stephon, had worked with Habitat for Humanity.
Multiple sponsors came forward to help her, including Lowe's and American Standard. Boyle documented her homebuilding experience on her blog My Empty Nest.
Please fill in your e-mail so we can share with you our top stories!