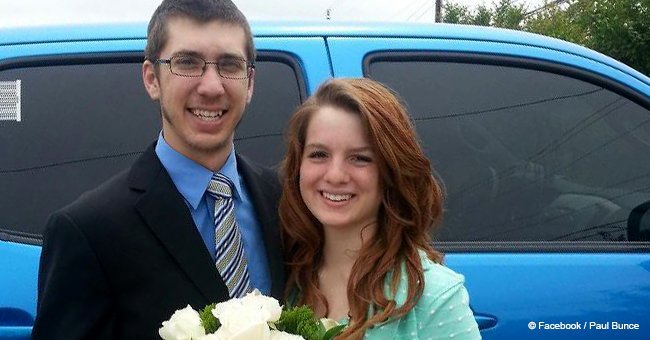 21-year-old mom shot at while feeding baby opens fire on intruders
Semantha Bunce, a combat medic with National Guard, was at home feeding her son when intruders burst in and shot at her, but soon regretted their decision.
A
GoFundMe
page was created by her friend on November 4, 2015, to help the mother-of-two from Charlotte, North Carolina, with her medical expenses.
Bunce is a hero! She was shot twice as she tried to defend her family when two men broke into her home in east Charlotte.
Read more on our Twitter account @amomama_usa
A combat medic in the National Guard, she immediately took her son to the bedroom, placed him in the crib, and grabbed her husband's gun.
The intruders fired at her in the stairwell and she retaliated and shot them back from her bedroom door.
She was successful in protecting her four-month-old son Bentley and chased the intruders away while her husband, Paul, was at work. However, she was seriously injured in the fight.
Fellow soldier and friend, Hollie Ritchie, set up a GoFundMe page to help raise funds. The page attracted about $30,000 in just four days and a total of over $65,000.
'She is an amazing person, mother, wife, friend, and soldier. Would do anything for anyone and would quite literally give you the shirt off her back if you needed it,' wrote Ritchie.
She said the funds would be for utility bills, child care, travel expenses, home repairs, missed wages, but a vast majority would be used for medical bills.
Speaking to WSOCTV, Paul said that the entire episode must have been a shock to the intruders just as much as it was to his wife. He added that it was her military training that helped her remain calm during the gunfight.
Bunce made it through the surgery at Carolinas Medical Center, according to the family. "She is a fighter, she never gives up," said Paul.
In an update, Ritchie posted that her comrade was 'doing much better' and had managed to take a few steps. Calling her a fighter and incredibly inspirational, she said that Bunce had expressed her gratitude for the kindness she received.
23-year-old Reco Latur Dawkins Jr. was charged with attempted murder, felony breaking and entering, and conspiracy to commit felony breaking and entering, according to WSOCTV.
Please fill in your e-mail so we can share with you our top stories!