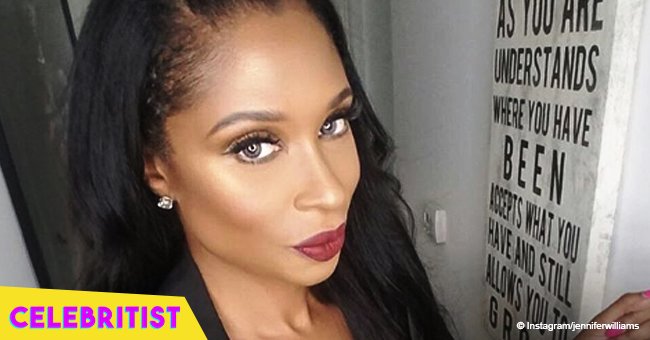 Jennifer Williams criticized for causing trouble after her promise to 'eliminate' negativity

Jennifer Williams' peaceful Sunday turned sour when fans slammed her for her tainted resolve to shun negativity from her life.
Jennifer Williams swore to eliminate negativity from her life but seemed to have attracted it in her recent post. The 'Basketball Wives' star shared a photo of herself lounging in the pool and gets slammed in the process.
It was a "Sunday well spent" according Jennifer Williams who flaunted her curves wearing a lace bikini as she smiled with a drink in hand while floating on her swimming pool. The former wife of Eric Johnson was full of joy resolving to keep negativity away and she made that known in her caption.
"A Sunday well spent and surrounded by happiness with people I love. I made a promise to myself to eliminate any and everyone who doesn't bring joy to my life. Thank you @msrocc68 @blessbetrue @raquel.lamothe @erica_manny for making this day a joy for me thus far."
Unknown to Williams at the time, her post would bring in the one thing she swore to get rid of -negative vibes. Her followers reminded her that it was she who brought in the negativity into her life when she spread a nasty rumor about her castmate Evelyn Lozada sleeping with Shaunie O'Neal's ex and placed the blame on Tami Roman.
"Lmao!!!!! After all the mess you started."
"Messy asf."
"So are you done being messy? You're too pretty for that."
It was during a recent episode of 'Basketball Wives' that the rumor was rehashed. Lozada maintained her denial and O'Neal admonishment of both Williams and Roman for spreading it. Explaining her side of the story, Williams released a series of tweets.
"And Tami needs to stop acting like that was the first convo about it…SMH! Just wow…"
"The whole thing started when Tami called me up telling me a bunch of shit Evelyn supposedly was doing to me…And that's how she reeled me in!"
After all the drama that unfolded in the show, Williams apologized for involving herself in the rumor. And while O'Neal forgave her, she insisted she wanted nothing to do with controversy.
Please fill in your e-mail so we can share with you our top stories!