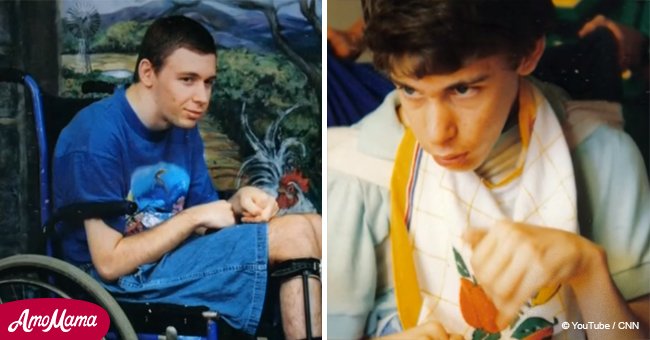 Man whose mind was 'trapped in a useless body' for a decade will soon become a father

After years of being in a vegetative state, the South African native is preparing for the next chapter in his life with his beloved wife.
Martin Pistorius from South Africa has had one of the most medically grave and mentally torturous teenage years. but fate has now turned to his favor, as reported by Today.
At the age of 12, Pistorius went into an unidentified coma, which he stayed in for over 4 years. When he finally did wake up, he came to the horrifying realization that his body still could not respond to his brain.
Locked in his own body for 8 more years, Pistorius' suffering continued until a new worker joined his care home. He noticed that the patient was aware of his surroundings despite his vegetative state.
Read more about similar stories of hope on our Twitter account @amomama_usa.
This observation became the turning point in his treatment. With a new hope of recovery, Pistorius was assigned to a therapy program.
Now, after several years of intense physiotherapy and rehabilitation, Pistorius can use a motorized wheelchair for mobility, move his arms, and even talk through a customized speech-to-text device.
Eventually, he met and married social worker Joanna, and believed that he could lead a normal life and have a family, but soon, he was faced with yet another major obstacle.
After several years of trying, doctors determined that it was not possible for Pistorius to father a child, and it took a while for the couple to accept the fact that they would not have any children.
Fate took another unexpected turn, and much to the couple's surprise, they recently found out that they were going to be blessed with a child.
Ever since the happy news broke, Pistorius has been making every effort to prepare for fatherhood. He has taken up a course in sign language so that he will be able to communicate with the child.
Eager at making a strong connection and familiarity with his soon-to-arrive child, Pistorius also reads to the fetus in his digital voice.
Pistorius seems to have put his traumatic past behind him, and apart from being a family man, he also made a career for himself as a public speaker, web developer, and author.
Please fill in your e-mail so we can share with you our top stories!