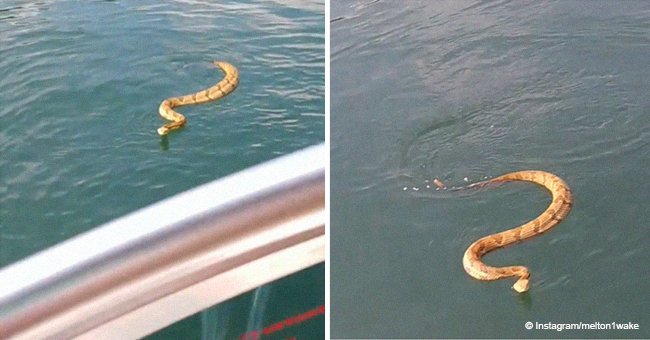 Terrifying moment caught on camera when swimming rattlesnake tries to get into family's boat

A family spending the day on Fontana Lake in North Carolina was shocked to see a rattlesnake swimming toward their boat.
On July 14, Wayne Robbins and his family were having a relaxing day in the middle of Fontana Lake (about 3 hours west of Charlotte in the Great Smoky Mountains National Park), when they spotted a deadly timber rattlesnake 'swimming' in the water.
Robbins and his family were enjoying a summer day on the lake when the timber rattlesnake slithered toward their boat. A passenger could capture a video of the terrifying scene. Read more on our Twitter account @amomama_usa.
The Knoxville, Tennessee, family captured the bizarre scene on video and posted the footage on Instagram. "Uninvited rattlesnake boards our boat on Fontana Lake," Wayne Robbins titled his initial Instagram video post.
According to National Geographic, the highly venomous timber rattlesnakes are rarely documented swimming in the water, but they can, and will, if scared or chased away by something on land, or in extreme hunting situations.
"This is our second time at that lake and the first timber rattlesnake we've ever encountered," Robbins said. However, this not the first time that a rattlesnake gets caught on a video swimming careless on the water.
Earlier this year, a man named Ted Wilson, who was fishing off the Florida Keys spotted a deadly species of rattlesnake swimming in the ocean. The man filmed the adventurous snake slithering along the surface of the water, as Fox 13 reported.
Instead of finding fish, Ted Wilson a captain with Islamorada Fishing Guide found a five-foot Eastern diamondback rattlesnake, which is the largest venomous snake in North America, according to National Geographic.
Wilson said the reptile appeared to be island-hopping in the middle of Florida Bay, which is between the southern tip of the mainland and the Keys. He said the snake swam toward the boat, looking like it wanted to "hitch a ride".
People all over the country should learn that it is better to stay away from these animals; most diamondback snake bites are a result of humans trying to capture it.
Luckily, antivenin is widely available in the country and bites are rarely fatal but extremely painful.
Please fill in your e-mail so we can share with you our top stories!