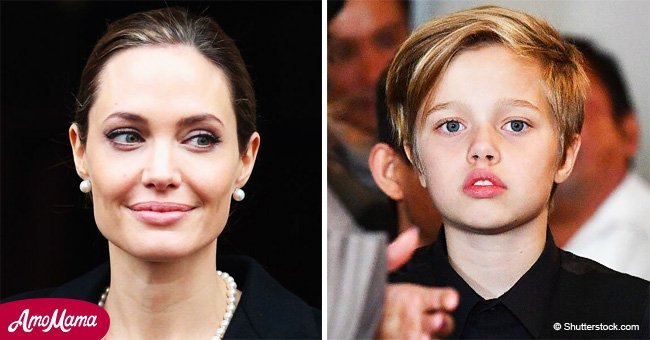 These 15 kids look exactly like their famous celebrity parents
These kids look very much alike with their parents that they can be mistaken for the younger versions of these famous celebrities.
One of the perks of having a famous parent is the fact that the child gets to carry his or her celebrity parent's gene.
By carrying strong similarities with their parent or parents, they easily get noticed, especially when they are out and about in public.
In fact, some of these kids become famous all because they are their parent's spitting image.
Follow us on Twitter at AmoMama USA for more articles like this.
Here is a list of 15 children with such similar looks from their famous parents:
1. Goldie Hawn & Kate Hudson
Just like her iconic mother, Goldie Hawn, Kate Hudson has grown up to be a woman with beauty. She is also an actress and has appeared in many films like Mother's Day and Bride Wars.
2. Hilary Duff & Luca Comrie
Perhaps Luca is the boy version of Hilary Duff – best known for her Disney character, Lizzie McGuire.
3. Tish & Miley Cyrus
Miley Cyrus may have inherited her talent from her father, Billy Ray Cyrus, she surely got her looks from her mother, Tish Cyrus.
4. Reese Witherspoon & Ava Phillippe
Reese Witherspoon shares her daughter, who looks exactly like her, with Ryan Phillippe.
5. Kate Middleton, Prince William, & Prince George
Prince George's looks are the perfect mixture of Kate Middleton and Prince William's features. The young prince looks just like both of his parents when they were his age.
6. Britney Spears & Sons, Sean Preston & Jayden James Federline
They may be boys but they still look a lot like their pop star mother, Britney Spears.
7. Kanye & North West
Most of the time, North West is photographed with a grimacing look on her face, which people suggested makes her look just like her father, Kanye West. Although, when she smiles, North strikes a resemblance with the younger version of her mother, Kim Kardashian West.
8. Kris & Kendall Jenner
There is no denying that the Kardashian-Jenner clan carry a strong gene pool. The matriarch Kris Jenner takes pride in her children's looks. Out of all her reality star children, Kris looks the most alike with her supermodel daughter, Kendall Jenner.
9. Demi Moore & Rumer Willis
The mother and daughter duo hold a strong resemblance with each other that they could be mistaken as twins. Although, Rumer Willis' looks can also be credited to her father, Bruce Willis.
10. Katie Holmes & Suri Cruise
Suri Cruise is Katie Holes daughter with Tom Cruise. As she continues to age, she has been looking more and more alike with her mother.
11. Angelina Jolie & Shiloh Jolie-Pitt
Shiloh Jolie-Pitt could be the blonde version of Angelina Jolie.
12. Jennifer Garner & Violet Affleck
Much like Shiloh, Violet is also the mini and blonde version of her famous mother, Jennifer Garner.
13. Maci Bookout & Bentley Edwards
The Teen Mom star shares the same broad smile with her child, Bentley Edwards.
14. Catelynn, Tyler, & Novalee Baltierra
Novalee Baltierra's looks are the perfect mixture of her parents, Tyler and Catelynn, who is also from Teen Mom.
15. Martin Sheen, Charlie Sheen, & Emilio Estevez
When brothers Charlie Sheen and Emilio Estevez are put side by side together, they don't seem to look very much alike. Although, if you put their father, Martin Sheen, into the mix, you can see that all three actors have unarguable similarities.
There is no denying that these kids have been very lucky in the field of genetics.
Please fill in your e-mail so we can share with you our top stories!