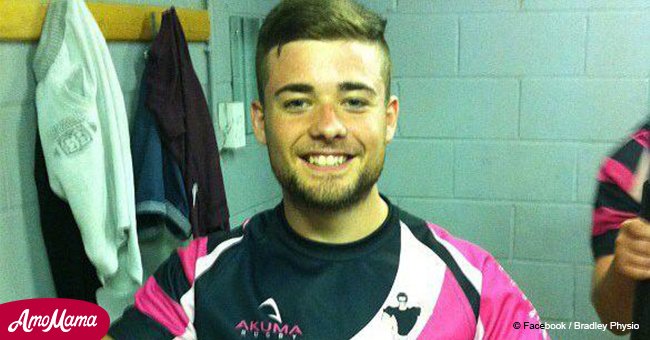 New father dies after medical staff fail to properly diagnose him until it was too late
Heart-broken Chantelle's young marriage was cut short by her husband's untimely death. She claimed that her husband was misdiagnosed and had cancer.
Tom Thornton had recently got married to Chantelle and also witnessed her give birth to their son weeks before his life ended at the age of 25.
Staff at Greater Manchester's Pennine Acute Hospitals NHS Trust failed to detect that Thornton had cancer of the appendix. The medical experts at the hospital believed that he had appendicitis, as reported by Manchester News.
It was one of a series of errors made from his admission to the hospital in August 2014 to his death on Jan 2015. Bad record keeping, poor management, and lack of communication with the family, all led to his quick demise.
Read more about Tom Thornton on our Twitter account amomama_usa.
Thorton's father, Kevin Thornton, mentioned that the hospital never seemed to take his son's case seriously.
The family only became aware there had been a misdiagnosis after Thorton's death. The family had received a call to check if the cancer was hereditary.
In his final weeks, Thorton proposed to his sweetheart, Chantelle, and they married a month before he passed away. He was also able to see the birth of his son Maxwell Joseph, three weeks before his death.
Thornton first went to the walk-in center at North Manchester General in August 2014 after complaining that he'd been suffering abdominal pain for five days.
He was then admitted to A&E where medics diagnosed him with acute appendicitis following an ultrasound. Thornton was listed for surgery to remove the appendix the next day but the procedure was delayed.
Professor Matthew Makin, medical director at the trust, confessed that the procedure was documented but the problem was not.
Post surgery Thorton's appendix was tested to see if anything had been missed, but the doctor at the pathology lab in Royal Oldham hospital failed to spot cancer and reported that the appendicitis diagnosis was accurate.
Thorton came back to the hospital just two weeks later, complaining of further abdominal pain. Doctors assumed his bowel might have been trapped in the incision and Thorton underwent ultrasound and Xray.
Even at that stage the doctors never suspected cancer. According to The Mirror, Thorton's father believed that lack of clarity and communication on the hospital's behalf led to a young life leaving his family.
Please fill in your e-mail so we can share with you our top stories!