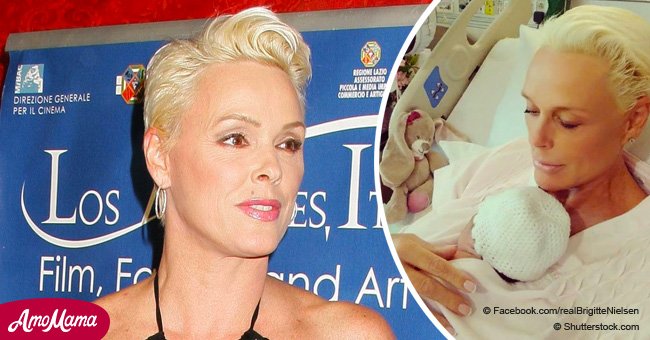 Brigitte Nielsen faces harsh criticism for having a child after turning 55
Former actress and model Brigitte Nielsen has finally opened up about having a child at 54. She gave birth to her baby girl, Frida, this June when she was 55.
In a People interview, the star shared the criticism she faced for being a mother again so late in her maternal years. She felt that men got away with it; and therefore, so should she.
Brigitte Nielsen welcomed her fifth child, Frida, a girl, on June 22. This is her first child with her husband of 12 years, Mattia Dessi, 39.
In May, she revealed they were pregnant by posting a baby bump photo on her social media accounts. She's now opened up about her grueling journey toward welcoming her daughter.
For more on this story go to our Twitter account @amomama_usa. The actress spent more than 10 years of undergoing in vitro fertilization treatment to get pregnant.
She shared that she wanted women to know that everything was possible, but that they had to be realistic. Soon after meeting Dessi, Nielsen started planning for their future together by freezing her eggs at age 40.
"But how many men have their first kids in their 60s and 70s and they never doubt it?"
Brigitte Nielsen, People, July 25, 2018
The star advised that if a woman didn't want to use donor eggs, they had to preserve their own ones at a reasonable age. She shared that she wouldn't bother from age 42 upwards.
However, preserving at age 40 didn't necessarily guarantee a successful pregnancy. Doctors gave her around three to four percent chance of success.
She shared that going the IVF route was filled with disappointment and she would get a lot of calls informing her that her tests were negative. The actress also revealed that the process was quite expensive too.
Nielsen prepared herself by learning everything she could about the process. She shared that becoming an expert on the matter helped ease her disappointment each time it didn't work.
The star added that the journey was often quite isolating. At times, she felt lonely because a lot of women don't talk to each other about it.
Nielsen is also a mother to four sons. They are Raoul Meyer Jr., 23, Douglas Meyer, 25, Killian Gastineau, 28, and Julian Winding, 34.
She shared that if motherhood was something you really want; you should never give up. "Some women think, 'Oh my God, I'm too old.' Well, yeah, I can understand people saying, 'How dare she?'" Nielsen said.
She explained that she understood that people were a bit skeptical. Plus she also respected the fact that not everybody likes it and agrees with it, but that it was her life to live.
Another point she made was that men could have children in their 60s and upwards, but no one said anything negative. So she felt it was her right to make her own choices too.
The actress revealed that Frida was Dessi's first child and that they were very much in love. She confessed that she'd always wanted a girl and was proud to have beaten the odds set against her.
Please fill in your e-mail so we can share with you our top stories!