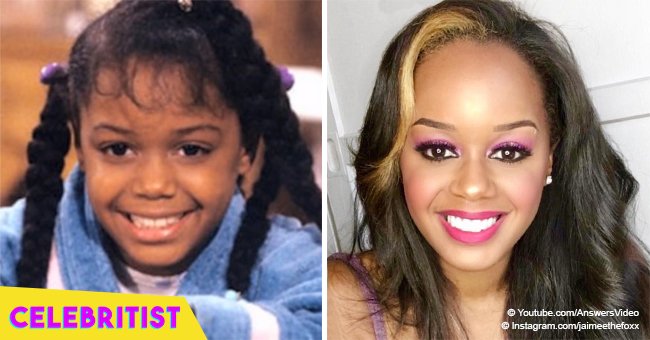 Remember Judy Winslow from 'Family Matters'? She's 38 now & sizzles in revealing, black outfit
The American actress and model got her breakout role when she was just 10 years old, and has continued to dazzle in the entertainment injury since then.
Jaimee Foxworth, who started acting when she was 8, is 38 years old today. She had two acting roles before she got her breakout role in Family Matters, playing little Judy Winslow in 95 episodes of the popular sitcom from 1989 to 1993.
Recently, she took to her Instagram account to share a number of photos of herself looking absolutely stunning, showing what a beautiful woman the adorable little Judy turned into.
In the shots, she could be seen wearing a tight black negligee, with spaghetti straps and a low scoop neckline. Her long dark hair with its single blonde streak was hanging in loose waves around her body, held down on one side with a single bobby pin.
The first image saw her looking at the camera, wearing heavy dark makeup around her eyes. The wallpaper behind her had hearts dotted all over it, and she captioned the image in the exact same way.
The second photo was taken from behind her, and she looked cheekily over her shoulder at the camera with a pout on her lips. This image also showed that the lower part of the negligee was sheer around her hips and buttocks.
She captioned it simply with a pair of eyes emoji.
The following day, she shared another image from the same collection, this one in color, showing her to be wearing a light pink lipstick and matching eyeshadow.
In the second and third images, she appeared to be in a different room, with a soft pink flower mural on the wall behind her instead of the hearts.
While Foxworth's career started at such a young age, it led to problems in her personal life, with her ending up addicted to drugs and alcohol. When she was let go from Family Matters after only three seasons, she struggled to adjust.
Her family struggled with money, and by her late teens she was taking ended up getting involved in the adult film industry.
"It was, to me, the quickest money," Foxworth told Oprah.com. "I was so naïve, and I was drinking."
She didn't think anyone would find out about it for a few years, but when people started to realize sooner than she thought, she knew she would have to tell her mother.
"That was the hardest thing," she said. "But it was a relief. Once she found out, she didn't reprimand me, she didn't yell at me, she said, 'I still love you, and we have to deal with this.'"
Although she lost friends and family over it, she decided to take responsibility for what she had done, and decided to use it as a warning for other children wanting to get involved in the entertainment industry.
Please fill in your e-mail so we can share with you our top stories!