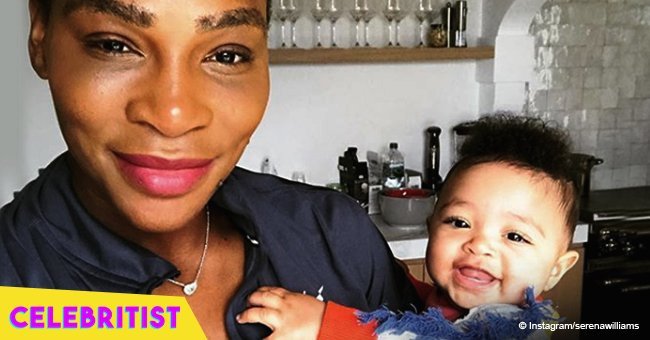 Serena Williams gets support after emotional revelation about baby daughter
The new mother opened up about her post natal blues and the struggles she has faced since returning back to training and having to leave her daughter at home.
Serena Williams is known as a tennis giant, with an incredible win record and a wonderful amount of trophies to her name as awards for her amazing sporting prowess. But in 2017, she took on a new and completely different role: Mother.
In April 2017, she and fiance Alexis Ohanian shared the news that Williams was expecting their first child. In September, she gave birth to a daughter, Alexis Olympia Ohanian.
It was a difficult delivery for the athlete, and she was forced to spend 6 weeks recovering from it.
Williams has since returned to training and competition, and is currently on the court at Wimbledon.
But her return hasn't been all smooth sailing. 6 months after her daughter's birth, Williams shared that she had stopped breastfeeding the little girl, and that it had been a very difficult decision for her to make, even explaining it to Olympia.
Williams took her dauhgter with her to England for Wimbledon, but missed a major milestone one day. She took to Twitter to share that she had been training when her daughter took her first steps, something she was devastated by.
Fortunately, other working mothers around the globe took to their own social media accounts to comfort her with stories of their own.
Even some famous moms decided to weigh in on Williams' story.
Following the outpouring of support for her from the tweetosphere, Williams spoke up to thank everyone for their kind words.
"It was so positive. So many people, basically everyone in the mentions was like, 'Oh, so did I. It's no big deal'. Or, 'I was at work, I was here.' I was just like, 'Wow.' I didn't know that was a common thing. I felt really glad that I posted that. I instantly felt better from all the moms and dads that were posting that it's totally normal," she said during a press conference at Wimbledon.
"Then they were posting, 'Don't be too hard on yourself.' They shared all their moments," she added, "I love that. I love that about the opportunity to get feedback."
After Williams went on maternity leave in 2017, her world ranking dropped from 1st to 453rd. Since her return she has climbed back up to number 181 on the rankings.
Her first return to the game after Olympia's birth was in December 2017, four months later, at an exhibition match at the Mubadala World Tennis Championship in Abu Dhabi, an encounter she lost.
Williams played her first official pro tennis match again in March 2018, at the BNP Paribas Open in Indian Wells, California. At the French Open in May, she won her first major match since becoming a mother.
The tennis star placed second at the 2018 installment of Wimbledon in England, where she was hoping to claim her 8th title after having to miss the 2017 competition.
Please fill in your e-mail so we can share with you our top stories!