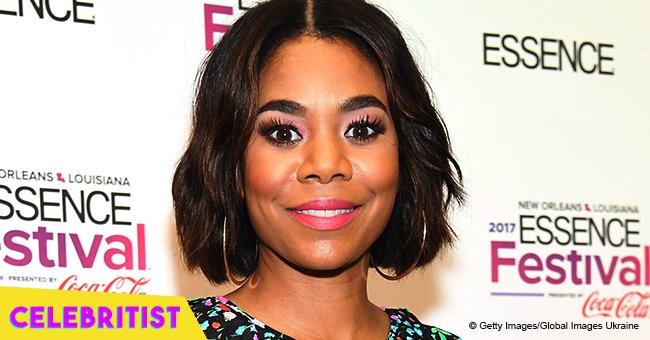 Regina Hall, 47, shows some skin in off-the-shoulder polka dotted dress in pic

The actress attended a Beauty Blender event in New York City, dressed in a long black-and-white polka-dotted dress, showing off some skin while at it.
While her character on "Girls Trip" reveals many scandalous details about her life, Regina Hall has kept a rather peaceful private life up until today. The internet rarely hears about her private dealings and relationships, and she often posts only about her projects or the events she attends.
In an interview with Essence, the "The Best Man" actress shared why she continues to be so guarded when it comes to her private life and why she'd rather not see her named flashed on articles in the media.
"It's a little bit of a sacred area until there is a baby or a ring."
However, she reassures the publication that she finds nothing wrong with the public wanting to know more about their favorite celebrities' personal lives, especially since they put themselves in this sort of spotlight in the first place.
"It's a curiousity. It's a tendency when people don't really know what you're doing to be curious about it, and I don't think anything is wrong with it."
She did say that she finds nothing wrong about sharing private information to the public, but that didn't mean that she was going to be sharing some information about whom she was dating. Regina believes that there is no need to share the men she dates until it's serious and could lead to marriage.
"I just feel like relationships are sacred until you're in a space where you are really certain and knowing. Until you see and know what that part of your life is, inviting the public in [is off limits], but I understand people's curiosity because I ask God 'who is it going to be' as much as they do. I'm like, God! But I also do that with other people. My friends call me and say, 'Guess what I heard?' So, I think it's just natural human curiosity."
For now, I guess we just have to make do with seeing her promotional posts until she finally shares a bit more about her relationships!
Please fill in your e-mail so we can share with you our top stories!