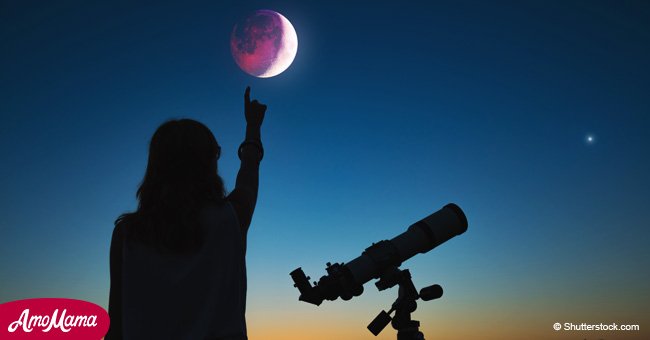 Here's how you can watch tonight's once-in-a-century lunar eclipse online
On Friday, the world will experience a total lunar eclipse. The Earth will cover the moon in its shadow and create the longest lunar eclipse in this century.
According to Slooh, this spectacle is known as the Buck Moon, the Full Moon of July, or sometimes even the Blood Moon. It can be watched with the naked eye or on the Slooh site.
This total lunar eclipse is expected to last for 1 hour 43 minutes. During this time the moon will turn into a red or ruddy-brown color. For more on this story go to our Twitter account @amomama_usa.
The next one that comes close won't happen until 2029 and the only other total lunar eclipse that will match Friday's won't happen until 2123.
Today's eclipse will be visible from every continent on earth except North America.
Eastern Africa, India, or Southeast Asia are the ideal viewing locations depending on the weather, according to NASA. If you can't see the eclipse in your area, a live-stream will be available on Slooh.
The Slooh community observatory is a telescope service for the public. It will start airing the eclipse around 1:00 p.m. EDT.
The eclipse will begin at 1:14 p.m. EDT and will end at 7:28 p.m. EDT. If you're lucky to see it in your area you can use the naked eye, telescopes, or binoculars.
Earth Sky reported that the peak of the eclipse will be at 4:21 p.m. EDT (2021 GMT). However, the total eclipse will begin at 3:30 p.m. and will end at 5:13 p.m. EDT (1930 to 2113 GMT).
A penumbra is also expected to occur on the same day. It's described as a phenomenon that occurs sometime before and after when the moon is positioned in the lighter part of the Earth's shadow.
The eclipse will last for 3 hours and 55 minutes if the penumbral time is included. People from North America will be able to witness the next total lunar eclipse on January 21, 2019.
This one will last for 1 hour 2 minutes. Viewers from the West Coast will also be able to get a good view of that eclipse.
Please fill in your e-mail so we can share with you our top stories!