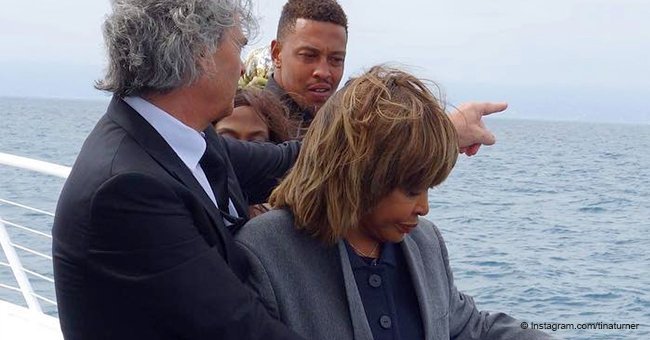 Tina Turner says a 'final goodbye' to son spreading his ashes after suicide

Singer and actress Tina Turner, often referred as the Queen of Rock 'n' Roll, shared a photo on Instagram saying the final goodbye to his late son, Craig Turner.
In the image, Tina was portrayed surrounded by a couple of people wearing a grey and black ensemble while holding a bright red rose. The singer was about to throw it to the water, where she spread the ashes of Craig.
For the caption, Tina pointed out that it had been her saddest moment as a mother as she said her 'final goodbye' to her 59-year-old son on July 19 by the coast of California.
She finished her message by saying that even though Craig's passing was tragic, he would always be her 'baby.'
As soon as Tina uploaded that picture, her fans and followers took to the comment section to send their support and share their thoughts. One of them was Instagram user Margarete Michel, who admitted to being sorry for her loss.
Apart from that, Margarete pointed out that she would pray for the 78-year-old singer and Craig's souls and finally sent her blessings.
Daily Mail reported that Craig was found dead of a self-inflicted gunshot wound at his home in Studio City. The man's body was found mere hours before Tina attended the Haute Couture Paris Fashion Week earlier this month.
Craig was born when Tina was only 18 years old. His father was a saxophonist named Raymond Hill. The singer's eldest son worked as a real estate agent at Rode Realty in the San Fernando Valley. Daily Mail added that he didn't have any children or wife when he passed.
In an interview Tina had with Oprah in 2005, she confessed that Craig was a very emotional person basically because he saw Ike mistreating his mother when they were married.
'They saw the black eyes. Ike's children never reacted, but my oldest son, Craig, was a very emotional kid. He'd always look down in sadness,' said Tina.
At the moment, the singer has not made an official statement about Craig's death.
Please fill in your e-mail so we can share with you our top stories!