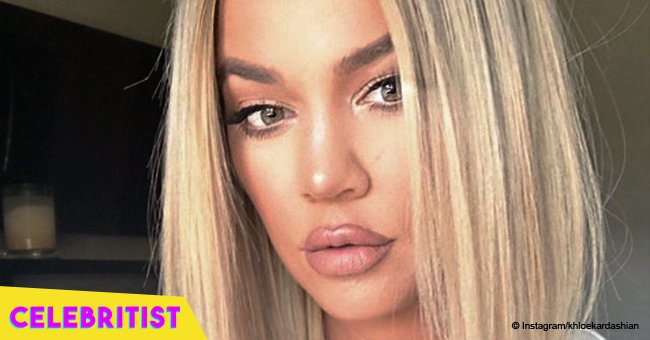 Khloe Kardashian shares photo with grandma on her 84th birthday after chopping off her hair

The Kardashian clan greeted their lovely grandmother a happy 84th birthday recently, and Khloe's greeting came after she cut off her hair as a symbol of a new beginning when she reached her fitness goal.
When people cut off their hair, it is often a symbol of a new beginning or a fresh start for them. In the case of Khloe Kardashian, her new hairstyle symbolizes a healthier and more active lifestyle for the mother-of-one.
After a rigorous training schedule and a strict diet, Khloe has finally achieved a slimmer body after giving birth to her daughter True Thompson last April. She posted a fierce photo on Instagram quoting her famous brother-in-law Kanye West in the caption.
""Not smiling makes me smile" Kanye"
July 26 marks the Kardashian-Jenner clan's grandmother Mary Jo's 84th birthday, and they all made sure to shower her with some love on her special day.
Khloe shared her favorite memory with her grandmother to commemorate her birthday on her blog, saying she used to love being in San Diego with her when she was much younger.
""When I was a kid, I used to love my weekends in San Diego with her—it was our alone time. My mom would drive halfway there and we'd meet my grandma at a diner, where we'd all have a fun and fattening lunch together, LOL."
According to Khloe, she would spend her free days with her grandmother, after Kris would drive them all the way out to San Diego to spend time with her grandmother. She would share that her grandma MJ would then take over the matriarch role, making sure that she and her siblings would get anything that they wanted while on vacation with their granny.
For her birthday, E! News shared about the Kardashian-Jenner family's birthday lunch for MJ, where they could be seen enjoying a sumptuous feast together. Her gifts included gluten-free tequila and white roses, while giveaways during her lunch included Mary Jo K lipsticks from the Kylie Cosmetics and Kim Kardashian West lines.
Happy happy birthday, MJ!
Please fill in your e-mail so we can share with you our top stories!