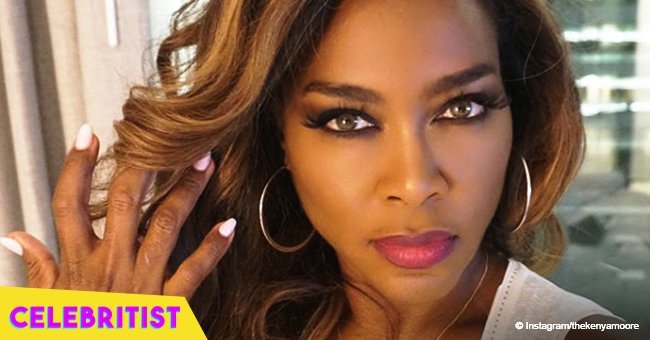 Kenya Moore shares video of her baby moving around in her belly
The "Real Housewives of Atlanta" star shared the good news about her pregnancy at the final reunion of the show's 10th season, and now, she's sharing cute pictures of her baby bump and her unborn baby with followers.
Kenya Moore has waited most of her adult life to become a mom, and now that she's finally expecting her first child with husband Marc Daly, she couldn't be happier about her life.
The 47-years-old former pageant queen has waited some months to show off her baby bump because she wanted to be on a safe place with the pregnancy, and she has finally started to share more of her journey to become a mom over social media.
Moore recently took to Instagram to share a sweet video of her baby moving inside her belly, as she explained that her doctor told her it would take time for her to feel the baby because of the position in which her placenta is situated.
She added:
"This has got to be the most amazing feeling any first time mother can have. Thinking of where my life was before I met my husband. Now I have a baby on the way and a man who truly loves me. NEVER ever give up on your dreams! #love #life #baby #mother #God #hope #faith #IVF #pregnant #ThatsMrsDalyToYou #fairytaleending #bumpday"
Kenya and her husband, businessman Marc Daly tied the knot in secret back in June 2017, and she told People magazine at the time that they were more than ready to start a family. "We both want to start a family, and soon — like, right away," she stated. "We both want a child."
Kenya, who conceived through in vitro fertilization, is due before the end of the year, and she revealed that she's been feeling tired and sensitive, but nothing too bad considering that is her first pregnancy.
She said:
"I'm tired, obviously. I don't have the stamina that I had before, so I'm taking it a little easy — not working out and going on long walks with the dogs and things like that. But it's nothing … I don't feel that bad. I don't feel hyper-emotional. I have a little bit of sensitivity to smells that make me nauseous and had a slight loss of appetite. But I've been okay!"
Moore also revealed she and Marc are trying not to find out the sex of the baby until the birth. "We just want a healthy baby. And it doesn't matter to either of us — boy, girl, we don't really care," she explained.
Please fill in your e-mail so we can share with you our top stories!