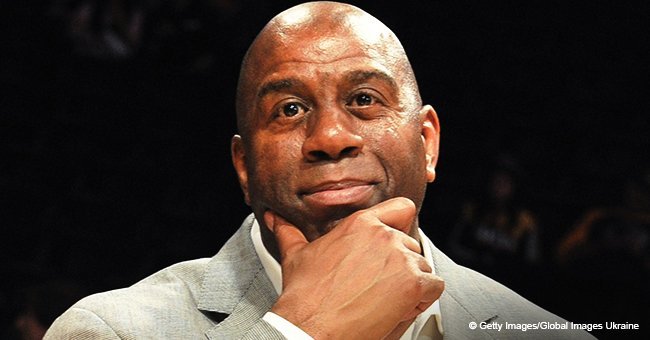 Tearful video resurfaces of Magic Johnson's adopted daughter Elisa meeting her birth mother
The American retired professional basketball player has three children, the youngest of whom was adopted shortly after her birth. The young woman is close to her adoptive parents, but also has contact with her birth mother.
Earvin "Magic" Johnson has three children. The oldest, Andre Johnson, is his son from a previous relationship. His second child, EJ, comes from his marriage to his Cookie Johnson. His third child and only daughter, Elisa, was adopted in 1995.
While Cookie was pregnant with the couple's son in 1992, Magic discovered that he was HIV positive. The couple worried about their son, and were relieved when he was born happy and completely healthy.
Instead of trying for another baby naturally and risking infection, the couple decided to adopt.
The couple have raised Elisa as their own daughter, but have also allowed her the opportunity to get in touch with her birth mother, something she decided she desperately wanted to do.
Today, the mother-daughter duo meet on a fairly regular basis to catch up, and to give Elisa the chance to also get to know her half-siblings.
In the video below, one of these emotional reunions between Elisa and her birth mother can be seen, and it's wonderful that the pair have come to such a close relationship after the start they had together, something most adopted children never get
At the very sight of her mother, who she identifies only as Dawn, she can't help but abandon her picnic spot and her belongings to go running to hug her and the family Dawn has brought with her.
And although she appears to have an escort, they quickly and discreetly say their goodbyes to give Elisa and Dawn a chance to catch up.
Through their conversation, it comes to light that Dawn was still in high school when she fell pregnant with her first child, and decided it was in her baby girl's best interest to be put up for adoption.
Elisa, who is now 23 years old, has career aspirations of her own. As of 2016, she was attending the Fashion Institute of Technology, and she hopes to one day combine her passions of singing, fashion, shopping, and social media into a successful career.
Please fill in your e-mail so we can share with you our top stories!