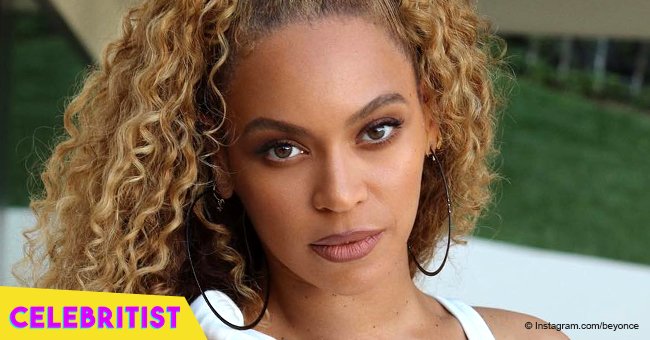 Beyoncé and Blue Ivy rock matching pink swimsuit cover-ups enjoying yacht vacation
The popular singing was on tour in Europe for a month, and decided to take her rapper husband and their children with so that they could enjoy family time between her shows and see all the sights together.
Beyonce's European tour included plenty of down time with hubby Jay-Z, daughter Blue Ivy, and twins Sir and Rumi. There was an abundance of photos that came from their trip, including of the little ones enjoying the tourist spots.
One image that emerged was of Beyonce and Blue Ivy, twinning in their matching outfits while they relaxed on a yacht off the coast of Italy. The pair looked relaxed and happy as they sat on a comfortable lounger embracing one another.
In the image, the mother daughter duo appeared to be wearing matching pink and white loose beach dresses. There were a few differences to their dresses though.
Beyonce's had a darker pink trim around her neck and sleeves and down her chest, while Blue's trim around her hemline was white, and around her neck was brown and tan. Her sleeves were also shorter than her mother's.
Bey also accessorized with a number of gold bracelets and a gold necklace. She left her blonde curls hanging loose, while Blue's hair was tied up in two ponytails on either side of her head.
The mother-daughter duo were sitting sidde by side, with Beyonce's legs crossed as she hugged her daughter close to her side.
Another photo from their vacation showed Blue stepping into a stunning hotel pool in a black swimsuit with a white collar and a pair of stylish black sunglasses. She also had a - presumably - virgin cocktail in her hand as she steps into the water.
The 6-year-old looked way too cool for her age, pulling a serious face in such a relaxing setting. Behind her was a white lounger, and the ocean could be seen beyond the glass railing.
Blue was also spotted out and about with her parents in Cannes, South of France.
On that occasion, as they wandered around as a family, she opted for denim shorts and a green and yellow swimsuit top. She had on a pair of black shoes as well.
Jay-Z was wearing a simple yet stylish ensemble as he put on a pair of white pants and a white shirt, as well as a red bandana and black sunglasses.
Beyoncé opted for a loose red, Dolce & Gabbana maxi dress that had a zebra and tropical fruit pattern all over it. It featured long, flowing sleeves, and a v-neck that had her bust half bursting out of the top of the garment.
Please fill in your e-mail so we can share with you our top stories!