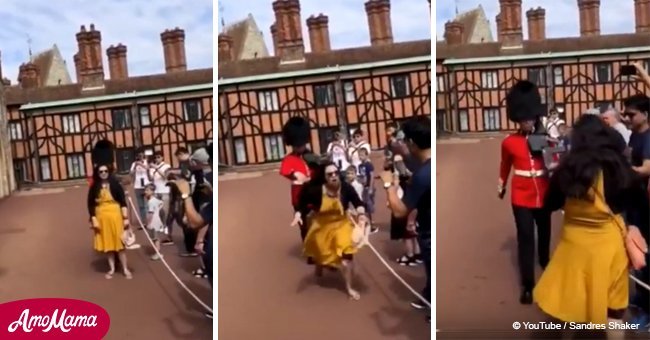 Moment when Queen's Guard rudely pushed lady tourist out of his way
A member of the Queen's Guard shoved a tourist out of the way while she was posing to take a picture outside Windsor Castle.
The brief video clip uploaded to YouTube by World News Network showed that the woman was striking a pose outside the rope barrier meant to keep the tourist in line.
When the soldier, wearing his ceremonial bearskin hat, marched from behind and shoved the woman standing in his way, the woman screamed in shock but did not retaliate.
In the incidence that took place outside the Queen's official residence, the tourist managed to stay on her feet despite the forceful impact from the soldier's shove. She was also not injured.
Follow us on Twitter to learn more.
According to Daily Mail, the Queen's Guard are charged with protecting the official royal residences and they are famous around the world for their unique uniforms of red tunics and bearskin hats.
For over three centuries, they have been protecting the royal residences. They are selected from one of five infantry regiments.
The Queen's Guard follows a disciplined code of conduct. If someone blocks their progress, they will often shout, "Make way for the Queen's Guard."
Regarding the incident with the tourist, the Ministry of Defense explained, "The Household Division is proud to guard Her Majesty and honored that people come from around the world to watch our ceremonial spectacle."
However, the Ministry also warned the tourists that the ropes are there for a reason and it would be unwise for the tourists to cross them.
'The ropes are there to protect both the public and our soldiers; please stay behind them,' the online source quoted the Ministry as stating.
The source further informed that the units have been serving the monarchs since Charles II took the throne after the English Restoration in 1660.
Please fill in your e-mail so we can share with you our top stories!