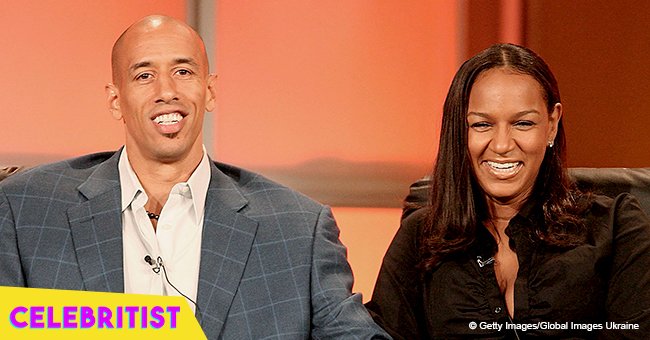 Jackie Christie melts hearts in new snaps with husband, Doug, from their Mexican 'honeymoon'

Jackie Christie dotes on her husband in a series of clips taken during their honeymoon following their renewal of vows celebrating 22 years of marriage.
Fresh from their renewal of vows celebrating 22 years of marital bliss, Jackie Christie and her husband Doug Christie are at the Mexican Riviera enjoying their honeymoon.
A series of videos and photos Jackie posted on her Instagram feature the couple lounging by the beach with food, wine and a lot of laughter. Jackie held the camera in most of the clips where she appears amused at her husband as she's heard laughing in the background.
In the first few clips, she reveals her husband chowing down on an appetizer and sipping from a glass of wine. A third clip zooms in on Doug's feet as he showcases some footwork on the sand while his wife giggles.
Jackie also shares a photo of candles with her name on them before directing the camera to herself on the next clip revealing they were at Punta De Mita.
Succeeding snaps showcase smoking a cigar while watching the waves barefoot, and relaxing on an infinity pool overlooking the ocean.
A clip Jackie asked her fans to watch out for in her caption involved a hawk that flew directly at her while she watched from afar. Of the clip, Jackie exclaimed in her caption,
"Damn it he gets me to do some wild shi!!!"
Doug and Jackie have been renewing their vows every year, proof that their marriage is indestructible. Just this month, Jackie donned the same gown she wore on their 20thyear anniversary renewal and exchanged vows again with her husband. She shared footage from the romantic affair where Doug cleaned up in a blue suit to match his wife's sparkly navy ensemble. The couple held hands as they stared into each other's eyes while reciting their vows with the assistance of a minister.
What a beautiful couple they are. Congratulations to the 22-time newlyweds!
Please fill in your e-mail so we can share with you our top stories!