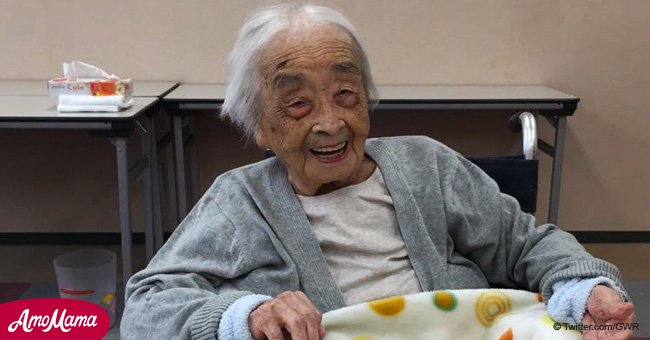 Guiness World Records: World's oldest person died in her home
Chiyo Miyako, the oldest person in the world, has died at age 117 in her home state in Japan.
Miyako, who was known to her family members as "the goddess," passed away on July 22, 2018. Guinness World Records has confirmed that she was the world's oldest person.
Miyako was very chatty, according to her family. They had referred to her as a patient and kind person who brought joy to those who met her.
Follow us on our Twitter account @amomama_usa to learn more.
According to Guinness World Records, during her childhood, she began studying calligraphy and had been creating calligraphic works until recently.
Miyako's other hobby was eating tasty foods. Her regular favorite was sushi and eels.
She had the chance to travel because her husband, Shoji, worked for Japanese National Railways.
Guinness World Records has three longevity categories: the Oldest person living (male), Oldest person living (female), and Oldest person living.
The world's oldest man, Masazo Nonaka, celebrated his 113th birthday on July 25, 2018, while the oldest person and oldest female titles are yet to be validated in the wake of Miyako's death.
Jeanne Louise Calment, from France, holds the title for the oldest person ever. Born in 1875, she was 122 when she passed away in 1997.
After an extensive research and evidence review process by Robert Young, Miyako's record was confirmed.
Young is the Guinness World Records' senior consultant for gerontology and the co-director for the Gerontology Research Group.
Though Miyako's replacement is yet to be announced by Guinness, media reported that the new oldest person is Kane Tanaka, a 115-year-old woman who lives in a nursing home in Fukuoka, a city in southern Japan, as reported by USA Today.
World Health Organization reported that Japanese women have the world's highest life expectancy of 87, while the men's life expectancy is in the world's top 10.
The traditional Japanese diet and good health care are the attributed factors.
The average age for women in America is 81.1 years; it's 76.1 years for men, according to a report from the National Center for Health Statistics in 2016.
Please fill in your e-mail so we can share with you our top stories!