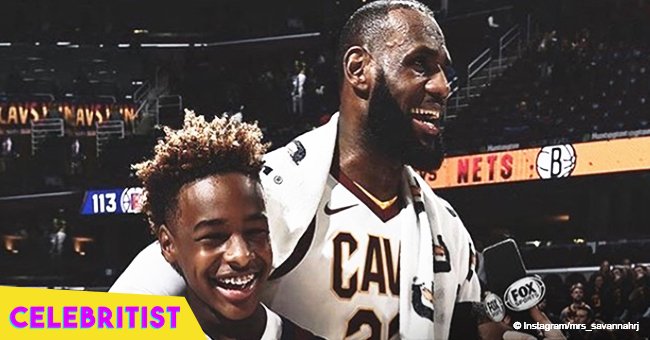 LeBron James reveals why he regrets giving 14-year-old son his name

In a new clip of LeBron James during his new HBO series "The Shop", he spoke about why he regrets giving his eldest son his name.
The show features LeBron speaking openly about his life experiences, particularly about his sons playing basketball and the topic of him giving his eldest son his name. "The Shop" also features sports stars like NFL player Odell Beckham JR., WNBA's Candace Parker, and superstars like musician Snoop Dogg and host Jon Stewart. The Shop is produced by HBO and Uninterrupted, the company owned by James himself and his business partner Maverick Carter.
When Mr. Stewart asked Mr. James how he gives his sons, who play basketball, the "peace of mind" that they don't have to be like him, he responded:
"I still regret giving my 13-year-old my name because of that."
As a parent, the NBA MVP has tried to focus on providing a "blueprint" for his kids.
"The only thing I can do is give them the blueprint, and it's up to them to take their own course…"
He did end up giving his sons a blueprint, who are both making their own names in the basketball world. According to The Washington Post, the proud dad said that he wants to stick around in the NBA long enough to play with his oldest son, or perhaps even own the NBA team and sign his kid to play for it. James Jr., nicknamed "Bronny", has already made waves entering eighth-grade basketball with highlight videos and an overflow of crowds to his games.
LeBron shares LeBron Jr., 13, Bryce Maximus, 11, and Zhuri, 3, with his wife Savannah Brinson whom he married in 2013.
The NBA champion has recently made headlines after he left the Cleveland Cavaliers and signed a $153.3 million contract with the Los Angeles Lakers earlier this month.
His new show airs on August 28 this year, and LeBron shares it'll be focusing on candid talks similar to the conversations he used to experience while going to barber shops as a child.
"We know with social media and text being the way people communicate, the form of conversation, actually talking, is kind of a lost art."
Please fill in your e-mail so we can share with you our top stories!