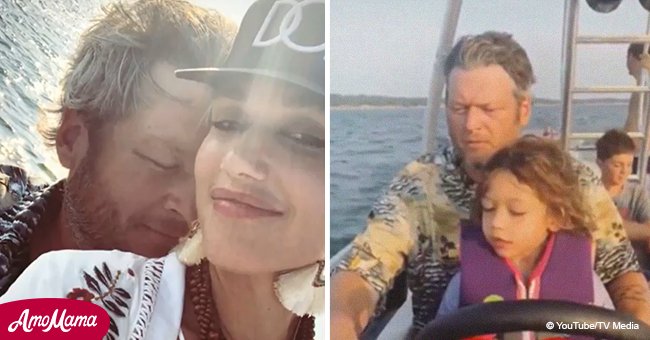 Gwen Stefani takes time out to enjoy a sun-filled day off with Blake Shelton and kids
Just weeks after starting a new residency in Sin City, the pop star took some time off to enjoy with her beau and her two sons on a sunny weekend.
Gwen Stefani, boyfriend Blake Shelton, and her sons, Kingston, 12, Zuma, 9, and Apollo, 4, decided to hit the water to enjoy the sunshine over the last weekend in July.
Stefani, who started a Las Vegas residency earlier this month, is making sure she still gets time to relax with her family, and sharing plenty of adorable photos with Shelton and her little ones with her fans.
From the recent boat trip, Stefani shared images to her Instagram stories of herself cozying up to Shelton, as well as photos of herself with her sister-in-law, and her sons.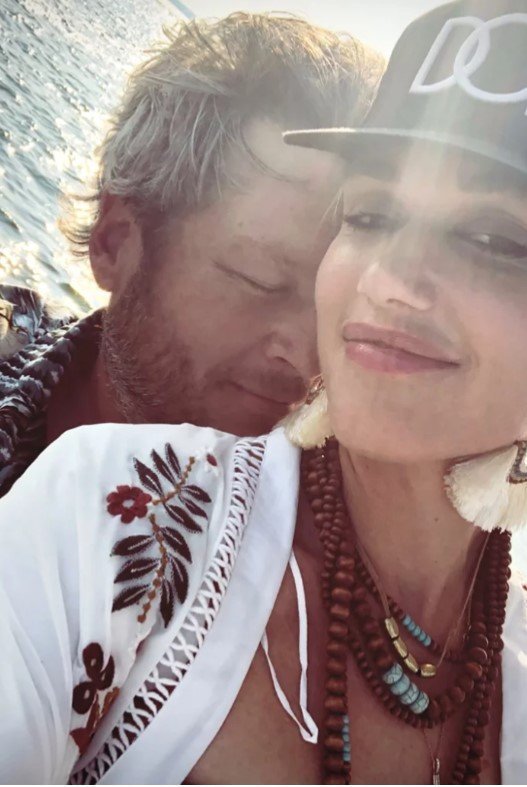 Source: Instagram/Gwen Stefani
The lovely image of Stefani and Shelton shows the 42-year-old Footloose singer standing behind his girlfiend with his eyes closed as he leans into her neck.
Stefani had on a white kaftan with floral embroidery up the front of it, a number of brown, gold, and turquoise beaded necklaces, feathery drop earrings, and a flat baseball cap.
Another image of the Hollaback Girl artist showed off the tiny bikini she had on under her kaftan.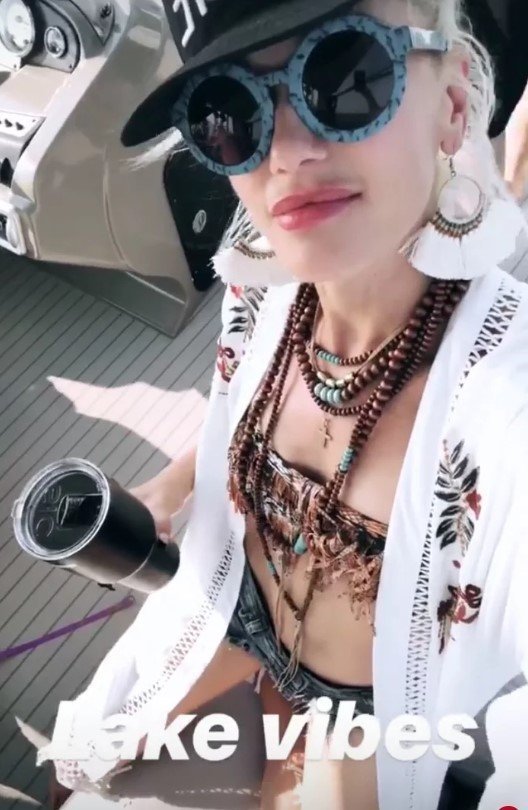 Source: Instagram/Gwen Stefani
For the image she added a pair of round, turquoise rimmed sunglasses. Underneath the loose overshirt, Stefani had on a brown ruffled bikini top that matched the brown beaded necklaces, and a pair of denim shorts.
She also had a travel mug in her hand, indicating she might be in need of a cafeine fix. The family was relaxing on Lake Texoma.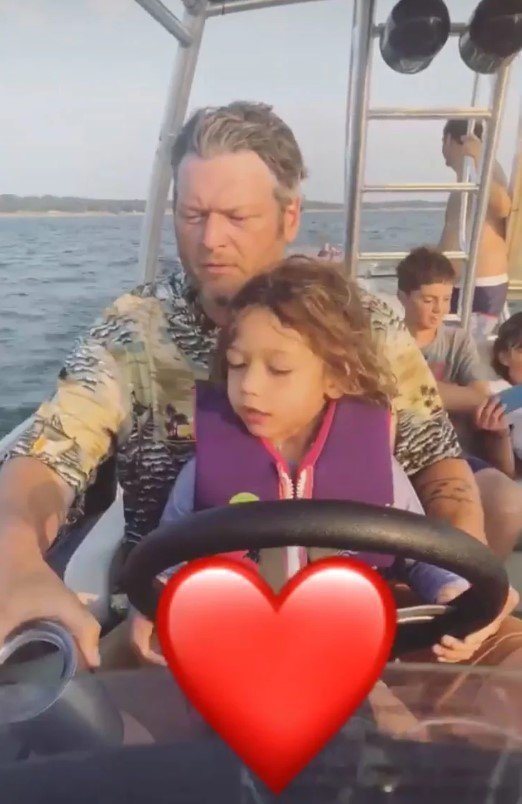 Source: Instagram/Gwen Stefani
Another beautiful image shows Shelton helping Apollo to steer the boat, and Stefani was clearly touched by the image, as she placed a large heart emoji over the bottom of the shot.
In the photo, Shelton can be seen wearing a brown and black patterned shirt, while Apollo had on a purple life vest over his long-sleeved swimming shirt. The youngster's curly hair was blowing back freely in the wind.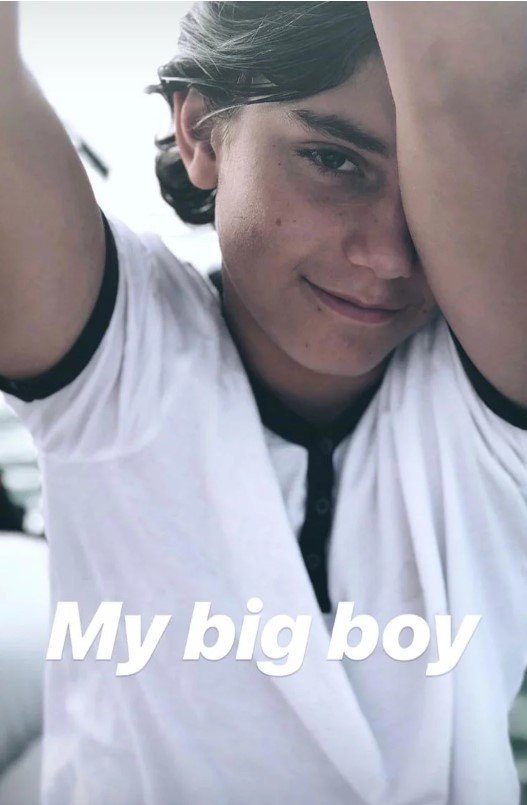 Source: Instagram/Gwen Stefani
An image of Kingston showed that he was wearing a white t-shirt with black trimmings, and looking shyly at the camera from behind his arm.
There was also a photo fo Shelton and Zuma together, showing the pair looking very relaxed together.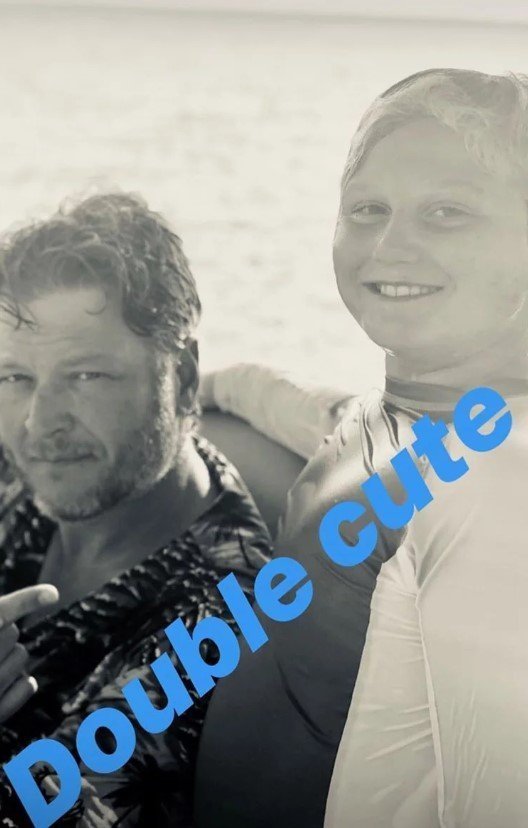 Source: Instagram/Gwen Stefani
They appeared to be seated on a comfortable lounger on deck, with Zuma wearing a swimming shirt that had clearly been put to good use. He sat next to Shelton with his arm across the back of the lounger behind Shelton, while the singer pointed at him.
Stefani just recently started a new Las Vegas residency, titled Just A Girl. Earlier in the month, after the first three shows, Shelton demonstrated his dedication to her by sharing that of her three shows so far he had been to all three.
Please fill in your e-mail so we can share with you our top stories!