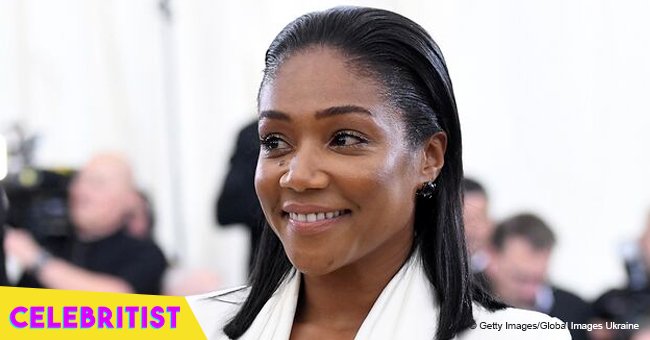 Tiffany Haddish stuns in sequined, red maxi-dress, posing with Kevin Hart in recent photo

Comedian and actress Tiffany Haddish, best known as Dina in Girls Trip, was honored at the Just For Laughs Awards ceremony with the Comedy Person of the Year.
Haddish attended the event wearing a beautiful sequined, red maxi-dress. One of the most impressive aspects of her number was that one side of it had a long sleeve while the other one had no sleeve at all.
TV host Loni Love, known for The Real, uploaded a slideshow with several photos of the ceremony. The first one showed Haddish holding the award while posing next to Kevin Hart, who presented it.
In the caption, the host set clear that Haddish made everybody laugh and in tears with her heartfelt speech after receiving her recognition.
As Pop Goes The News reported, Haddish gave Hart a shoe filled with money, to what Hart explained that he lent her money a while ago, so she was trying to give him the money back.
The actor added that she was being a 'jerk' for giving the money back to him in front of the audience because she knew he couldn't give it back to her. Haddish made fun of that by saying that doing it in front of white people was important, too.
Once on stage, Haddish delivered a funny yet emotional speech wherein she confessed she was trying to pay a lot of comedians back as there were several people who helped her become who she is nowadays.
Haddish pointed out that they guided her, shared words of advice, and even encouraged him at times when she didn't think she would live anymore.
Finally, she revealed that one of her influencers was Jessica Rabbit from Who Framed Roger Rabbit? as there is a scene that shows the detective asking Rabbit why so many people were doing nice things for her.
'...And the rabbit says, 'because I make them laugh, and if you make them laugh they'll do anything for you!' I was like, that's the ticket. And here I am today because of that,' revealed Haddish.
Please fill in your e-mail so we can share with you our top stories!