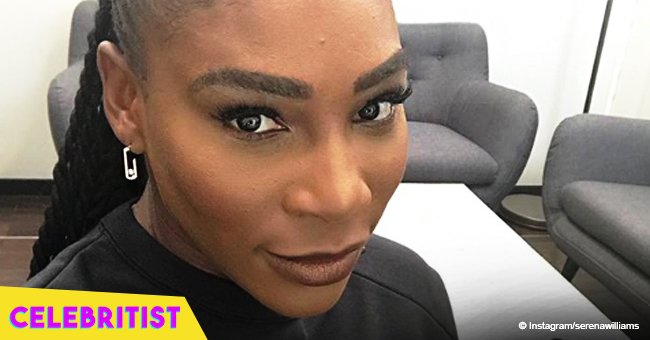 Serena Williams looks radiant as she holds a sleeping baby Olympia on plane in new photo
The new mother opened up about her post natal blues and the struggles she has faced since returning back to training and having to leave her daughter at home.
Serena Williams is known as a tennis giant, with an incredible win record and a wonderful amount of trophies to her name as awards for her amazing sporting prowess. But in 2017, she took on a new and completely different role: Mother.
In April 2017, she and fiance Alexis Ohanian shared the news that Williams was expecting their first child, and was already 20 weeks along. This meant that the athlete was 10 weeks pregnant when she had won the Australian Open in January.
Shortly after her announcement, she stopped training and competing, and in September, she gave birth to a daughter, Alexis Olympia Ohanian Jr.
It's been a rocky ride for the new mother since returning to training and competition, but Williams is absolutely besotted with her little girl, despite the challenges she has faced as a working mother.
While training at Wimbledon, her baby girl took her first steps, and Williams was devastated that she missed the special moment. She took to Twitter to share her grief at the lost moment.
Fortunately for her, plenty of other working mothers rallied around her in support, offering words of comfort to her.
Williams was so grateful for the outpouring of support that she publicly thanked everyone for the kind words during a press conference at Wimbledon.
"It was so positive. So many people, basically everyone in the mentions was like, 'Oh, so did I. It's no big deal'. Or, 'I was at work, I was here.' I was just like, 'Wow.' I didn't know that was a common thing. I felt really glad that I posted that. I instantly felt better from all the moms and dads that were posting that it's totally normal," she said during a press conference at Wimbledon.
With Wimbledon over, the family headed back home to the States to enjoy some quality time together. Williams took to her Instagram account to share a beautiful photo of herself holding her daughter while traveling on a plane.
In the image, Alexis Jr. was lying snoozing against her mother's chest with her adorable plump lips puckered as she lay. The little girl had a cream colored bow in her hair, and appeared to be wearing a white shirt with puffy sleeves.
Meanwhile, Williams wore a light pink t-shirt and a cream colored baseball cap. She seemed utterly content with her sweet daughter on her lap.
The lovely photo had over 350,000 likes on it within a day.
During their time at Wimbledon, Williams and Ohanian also hopped across the pond with their daughter to give her her first taste of Disneyland in Paris.
Please fill in your e-mail so we can share with you our top stories!