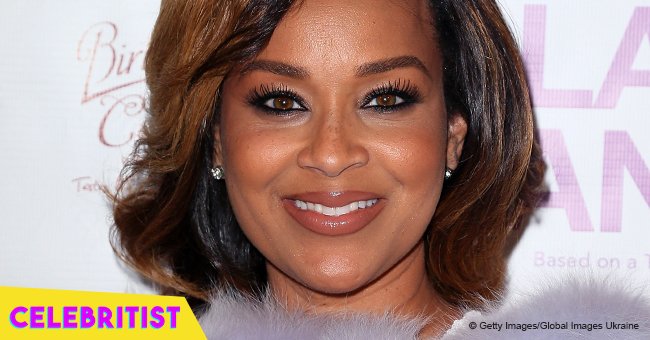 LisaRaye McCoy's little granddaughter poses in pineapple top & colorful sunglasses in video
The American actress, model, businesswoman, and fashion designer has become a proud grandmother eighteen months ago, and the little girl is already a social media sensation.
51-year-old LisaRaye McCoy's daughter welcomed a baby girl of her own in December 2016, making the actress a first-time grandmother to a beautiful baby girl, who she regularly updates her fans on.
The tot may not even have hit the 2-year mark yet, but already her mother, Kai Morae Pace, has already set up an Instagram account for her.
In a recent video shared to the account, little Bella Rae can be seen wandering around, making life difficult for her mother who is trying to snap an adorable photo of her to post.
Bella Rae is wearing a light green top with frilly straps and a pineapple pattern across the garment. She also has on a pair of black shorts, reflective sandals, and a pair of pastel rimmed sunglasses. Her short curly hair was pulled back in a high ponytail.
In the background as the tot wandered around, Pace could be heard trying to convince her little girl to stand still and pose for a photo.
"Behind getting a photo of Bella Rae....Peep how she looked at me over her glasses though," Pace captioned the shot.
Proud granny McCoy also shares plenty of photos and videos of her granddaughter.
One video, shared on Independence Day, shows the 51-year-old wearing a white bikini and a matching white headband as she carried her precious bundle around in the swimming pool.
The second clip in the mutli-clip post saw the little one standing next to her seated grandmother, with a bunch of American flag hearts peppering her hair with another 4th of July filter.
McCoy also recently took to the social media site with a video collage of photos of herself and Bella Rae attending a church sermon on Sunday morning.
The sweet little girl wore a white lace dress to the church, and a white headband with a delicate little flower on top of her head.
McCoy debuted her granddaughter on her Instagram account when the littel girl was 2 months old, and showed the infant sleeping on her chest.
Please fill in your e-mail so we can share with you our top stories!