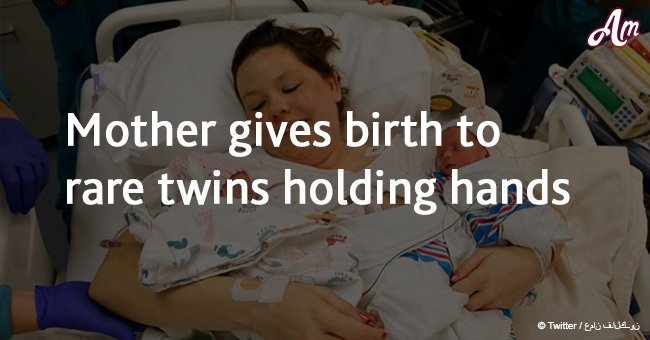 Mother gives birth to rare twins holding hands
Sarah Thistlethwaite received the most perfect mother's day present with the birth of her twin daughters, who came into the world holding hands.
According to a video uploaded to YouTube, the girls were born with a rare condition, called 'monoamniotic,' in which the babies shared the same amniotic sac and placenta. The odds of such pregnancy occurring were one in 10,000 births.
The medical expert at the Akron General Medical Center told that in his 35 years of practicing high-risk obstetrics, he had seen less than ten such cases.
Thistlethwaite's situation was claimed to be high-risk by the authorities. They raised concerns over the possibility of cord entanglement or compression.
Follow us on Twitter to learn more.
After spending 56 days in the hospital, she finally gave birth to two beautiful twin girls, named Jenna and Gillian, who came onto the world holding each other's hands.
"It was just so awesome that they were both holding hands and it was so great to hear them both cry," she says in the video while lying in the hospital bed.
The video informed that Gillian immediately began breathing after her birth but Jenna required some help from the oxygen.
The proud father of the twins explained that it was hard for him to find the right words to express his emotions. "What was going through my mind? I don't know. I couldn't think. I started tearing up immediately."
Besides the twins, the couple also shares a 15-month-old son. Together, Thistlethwaite and her entire family celebrated truly one of the best mother's days ever.
The proud mother claims in the video that it was the "best mother's day present ever." She further expressed that her mother's day was "definitely" going to be different this time because of the miracle that occurred in their life.
Please fill in your e-mail so we can share with you our top stories!