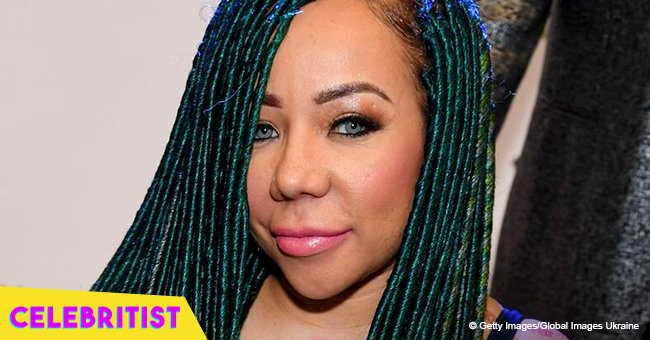 Tiny's mom shares video of baby Heiress in fluffy embroidered christening gown and cap
Dianne Cottle-Pope dotes on her granddaughter sharing a throwback clip from her christening day. The mother of Tiny Harris who once had a serious talk with T.I. regarding his philandering is clearly smitten with the two-year-old who often graces her Instagram.
If there's one person Tiny Cottle can expect to have her back, it's her mother Dianne Cottle-Pope. The 73-year-old who at one point set T.I. straight after discovering he's been cheating on her daughter, has cheered on Tiny and doted on her grandchildren, much like her latest post where she draws attention to Tiny and T.I.'s youngest, Heiress.
Dianne waxes nostalgic in one of her more recent posts where she features a throwback clip of Heiress, now 2, dressed for her baptism. The little tot looked so adorable wearing a fluffy, white lacy frock with a tutu-inspired lining and a bonnet on her head. In the short clip, Dianne could be heard in the background calling Heiress' attention by blowing kisses in the air and uttering "Mama's baby" several times. Heiress appeared to be distracted by something else as she looked to her side and concentrated on what she was seeing.
"Our baby, before her christening," Dianne wrote in her caption.
Looking through Dianne's other Instagram posts, Heiress is front and center in many of them, proof of her grandmother's love for her. Also this month, Diane shares a snap of the little girl while she reads her a book. Dianne tells her followers that Heiress "was having me, Mamaw read her book" in her caption and added,
"She loves for you to read to her."
On Heiress 2ndbirthday, Dianne also took to her Instagram to share a photo of the two of them as she greets her a happy birthday.
It's safe to say Dianne would do anything for her grandchildren even if it means defending their mother from their philandering father. At the height of the controversy involving T.I.'s alleged relationship with Bernice Burgos last year, Dianne took it upon herself to have a chat with the rapper and set him straight.
During an episode of 'T.I. & Tiny: The Family Hustle,' she sent a message to his son-in-law who described the text as "disturbing" and prompted him to pay her a visit. A nervous T.I. sat down with Dianne and listened to her as she issued him a warning regarding Tiny.
"It is really none of my business. But it is some of my business when my daughter is hurt. I feel like she is hurt. If you are going to keep on doing your dirt, as you are doing — that is what it is, and you know it, because you are married, and you got married before God."
As T.I. defended himself and told Diane both he and Tiny "had done dirt" during their marriage, Diane responded with,
"I do not see nothing she is done."
That was last year. Just recently T.I. was embroiled in another cheating controversy involving another woman, Asia'h Epperson. Tiny was visibly upset hearing about it as her Instagram posts following the incident proved. Dianne, however, has been mum about it.
Recent events also reveal Tiny and T.I. seemingly in a better place after the actor gifted her with a luxurious car on her birthday. She even thanked him for "showing up" and "showing out" on her birthday while expressing her appreciation for all the love he has shown her in a post where she shows off her new car.
Please fill in your e-mail so we can share with you our top stories!