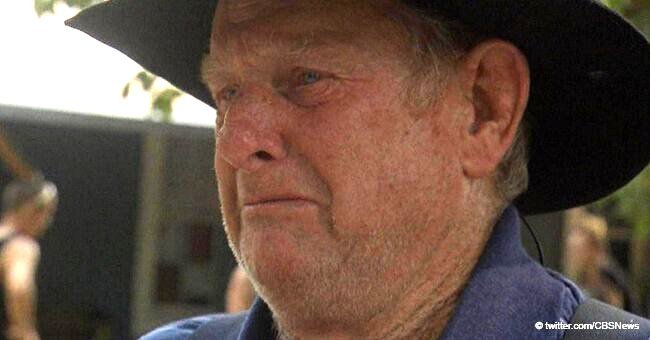 'I'd have died right there with them.' Husband loses wife and great-grandkids in wildfires

Ed Bledsoe, one of the people who lost everything in the Carr Fire, reveals that he also lost his wife, Melody, and his two grandchildren, who got trapped in the house.
The fire that has been forcing tens of thousands of evacuations in Northern California, has been decimating everything in its path and grown to nearly 150 square miles.
According to CBS News, Ed wasn't able to save his family even though he was only 15 minutes away from home because the flames were too big to get through.
The grandfather was left heartbroken when he learned that the fire was dangerously close to his home. He had left to run an errand, leaving his wife and grandchildren behind when he got a phone call.
Please consider following us on our Twitter account @amomama_usa to learn more
Melody pleaded for him to come back home, claiming that the fire was coming up the hill. He quickly rushed back while talking to his grandson on the phone.
The little boy was crying and Ed tried to calm him down as best as he could. Meanwhile, Melody wrapped the children and herself with wet blankets, hoping that it would be enough to keep the fire away. But it wasn't.
The hurting grandfather argued that he loved his family very much and that if he had had a chance, he would have jumped into the fire to save them. Unfortunately, the number of stopped cars on the road and the strenght of the flames made it impossible for him to reach them.
Ed claims that he never received an evacuation warning and that if he had, he wouldn't have left the house in the first place. Tom Bosenko, the Shasta County Sheriff, said that his department told the Redding people to evacuate.
An investigation has now been launched to see if the Bledsoe home received a warning call or a door-knock, considering that there is evidence that the areas before and after the Bledsoe home were properly notified.
Ed's home was only one of the over 850 structures that were destroyed by the flames. Aside from trying to control the panic and devastation, law enforcement has been trying to handle another issue: looting.
Taking advantage of the situation, several people have begun to look for valuables inside the evacuated homes and, so far, police have been able to arrest three people, including an unidentified man wearing camouflage and armed with a loaded weapon.
Please fill in your e-mail so we can share with you our top stories!