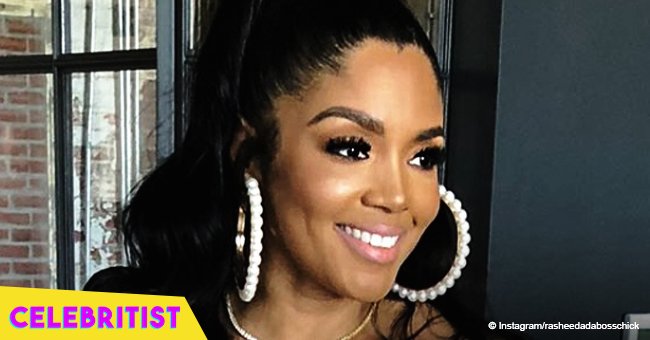 Rasheeda Frost turns heads in pink mini dress & heels, showing her nude bra in new photo
After a controversial season on "Love & Hip Hop: Atlanta," Rasheeda Frost is still as busy as ever running her several businesses and taking care of her family. The "boss lady" recently made a photoshoot for the cover of a magazine and she looked stunning, as usual.
Rasheeda is serving looks at a recent session she made for The B Collective magazine, as she showed off her curves and flaunted some cleavage in a bright pink short dress with a plunging neckline. She kept things on the safe side by wearing a nude-colored bra and completed the look with a pair of floral printed high heels.
The 36-years-old's life was turned upside down last year after she found out that her husband of 18 years, Kirk Frost, not only cheated on her but also left his mistress pregnant.
Jasmine Washington, a former stripper, and mother of the two-year-old boy, Kannon, became part of "Love & Hip Hop: Atlanta" after she walked into Rasheeda's store to apologize for, basically, ruining her family.
After avoiding a conversation with Jasmine for months, Rasheeda and the woman finally faced each other after Washington popped up to the opening of Rasheeda's new "Pressed" boutique in Houston.
While many fans were expecting wigs to fly and hands to be thrown, Rasheeda proved she's a lady by accepting to have a level-headed conversation with Washington. But she didn't let her go without telling her some truths.
"You need to have whatever conversation you need to have with [Kirk] because at the end of the day on some real [expletive] you're an [expletive] up individual for doing what you did," Rasheeda said. "All these games with these blogs… you posted my child on Instagram that type of [expletive] right there, that's a no-go. Your malicious ways, I can't respect that on any level."
On the final reunion of the show, Rasheeda and Jasmine faced each other once again, and while Frost admitted she doesn't have a problem in welcoming little Kannon into her house, so he can have a relationship with his siblings, her relationship with Jasmine is nowhere near to a friendly one.
Frost believes Jasmine has not been honest with all her apologies and blamed her for not thinking before ruining her family, saying that she should of "kept them legs closed and there wouldn't even be a child."
However, Rasheeda revealed she's giving her marriage a second chance, which earned her critics from fans who believe she deserves better and should be kicking Kirk out of her life for what he did.
Read some of the comments from angered fans below:
Please fill in your e-mail so we can share with you our top stories!