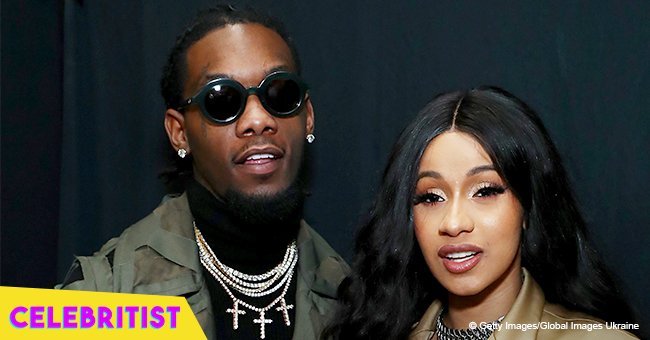 Cardi B and husband Offset proudly show off matching Lamborghinis in new pic
New parents Cardi B and Offset have just purchased themselves brand new sportscars. The couple recently shared a photo flaunting their Lamborghinis as Cardi shuts down the controversy surrounding its acquisition.
Cardi B and her husband Offset just recently welcomed their first child and now they're showing off two more babies that are parked in their garage.
The talented couple flaunted a couple of bright-colored Lamborghinis in the most recent pic cardi posted as each of them posed in front of a sportscar. Cardi sat on the hood of an aqua blue version while Offset in black sat on a lime green one.
"Blessed and Gifted," the new mom wrote in her caption along with the description "Official Lamb owners."
The happy photo didn't come without its own share of baggage as some fans later claimed the vehicles were merely leased. To prove their suspicions wrong, Cardi didn't only flaunt the cars' receipt but even shared a screenshot of her Wells Fargo bank statement attesting that she paid for the Lambos in cash.
Cardi and Offset welcomed their daughter Kulture three weeks ago and the timing of their new vehicles could very well seem like their gifts to themselves for becoming new parents.
Since giving birth, Cardi has been on full "mommy mode" adjusting to her new life which she realized was more than she expected. This prompted her to bow out of her commitment to Bruno Mars' upcoming tour releasing the following statement to explain.
"As of today I've decided I won't be joining Bruno on tour this Fall. I thought that after giving birth to my daughter that 6 weeks would be enough time for me to recover mentally and physically. I also thought that I'd be able to bring her with me on tour, but I think I underestimated this whole mommy thing. Not only am I just not ready physically, I'm not ready to leave my baby behind since the doctors explained it's not healthy for her to be on the road. I hope you guys understand that this decision has been the hardest to make but I have to do what's best for myself and my baby! Thank you Bruno for being so supportive and understanding."
Cardi is looking spectacular by the way as her post-baby bod reveals. She's glowing and motherhood seems to suit her just fine.
Please fill in your e-mail so we can share with you our top stories!