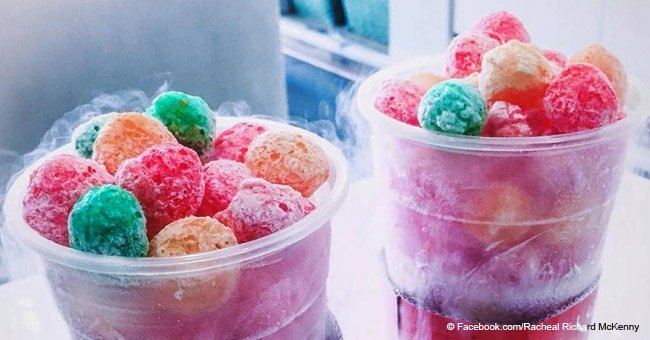 'He could have died': Mom warns of popular snack's health risks after son is hospitalized
Racheal McKenny, of Saint Augustine, in Florida, almost lost her son, who has asthma, due to a liquid nitrogen-infused cereal that caused him to choke.
The incident took place on Wednesday, July 25, 2018, after a trip to The Avenues Mall in Jacksonville, which could have easily ended badly if it weren't for Racheal's husband, John.
The concerned mother decided to take to Facebook to tell her story to other people whose children might have asthma and warn them about the danger that the cereal represents to them.
According to Racheal, the family was on its way out when Johnny, one of the children, noticed a kiosk selling Dragon's Breath, which even had a little television with a commercial about it.
Please consider following us on our Twitter accoiunt @amomama_usa to learn more
The effects are quite simple; when someone eats the cereal, the liquid nitrogen causes them to blow smoke out of their mouths just like a dragon, which seems like an interesting and fun concept.
The problem was that Johnny, who has asthma, didn't react well to the cereal. Racheal didn't think that there would be a problem so she allowed him to try it, which turned out to be a mistake.
After leaving the mall, the family started the 40-minute drive back home and in the first 10 minutes, the little boy started to cough. The intensity of the cough kept increasing, to the point that Johnny was having trouble catching his breath.
They wouldn't make it to a hospital in time and Racheal hadn't packed a prescription inhaler, which she usually carries in her purse. Luckily, her husband knew that there was a fire station nearby.
The team of paramedics at the firehouse started Johnny on an albuterol treatment and IV before transporting him to Flagler Hospital, where he was properly cared for.
The child had to stay the night at the medical facility for further observation but was discharged the next day. Now, Racheal wants nothing more than warn others about the dangers of Dragon Breath so they don't end up losing their life over some cereal.
This wasn't the first time that Dragon's Breath has caused harm. According to WEARTV, in 2017, a 14-year-old girl suffered a chemical burn while handling the cereal and had to be rushed to the hospital where doctors were forced to cut the dead skin in order to save her thumb.
Please fill in your e-mail so we can share with you our top stories!