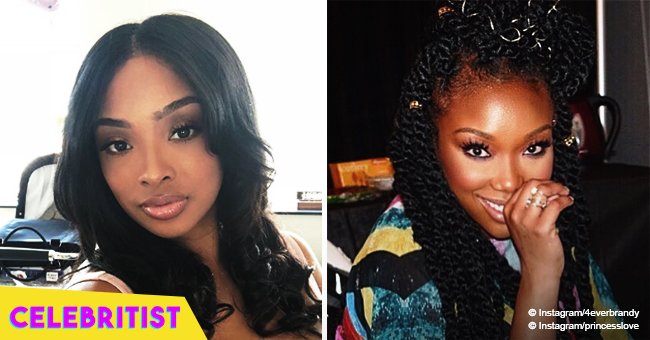 Brandy sparks pregnancy rumors while arguing with Princess Love in recent video

On the most recent episode of "Love and Hip Hop: Hollywood", Brandy appeared sporting big and loose clothing, which caused a huge uproar on Twitter as people started speculating that she was actually pregnant.
Brandy, 39, appeared in an intense confrontation scene along with her mother, Sonja Norwood, her brother Ray J, and his then-pregnant wife Princess Love. During their family conversation, she was seen wearing a large blue shawl to cover up, while she was talking to the couple who were about to find out at the time if they were set to have a baby boy or girl.
It didn't take long before a heated argument started to spur between Brandy and Princess, as she and her mother were insisting that the pregnant woman's character and attitude are representing the family, and will eventually affect the baby. While the conversation was enough to spark a media war, all eyes seemed to have focused on Brandy and her loose clothing.
This isn't the first time that Brandy was rumored to be pregnant, as the rumors first hit the spotlight in March. While people were insisting that she looked pregnant, her brother Ray J came to her rescue and denied the rumors, as previously reported on Hollywood Life. He made sure to squash another rumor going around, and that was that Brandy was actually the surrogate of his and Princess' child.
"Someone said she's having OUR baby - that she's our surrogate. And I'm like, that would be Love, okay? That would be the ultimate hookup if my sister was able to take time out of her life and have our baby. It's a little outrageous, but those are just some of the things that happen in the press. For me, I just kind of chuckle it off."
Despite the episode airing just yesterday, it was actually taped earlier this year as Ray J and Princess Love have actually welcomed their baby months back. The proud parents welcomed a baby girl last May 22, and they named her Melody Love Norwood. As for whether or not Brandy actually is (or was) pregnant, I guess only time could tell.
Please fill in your e-mail so we can share with you our top stories!