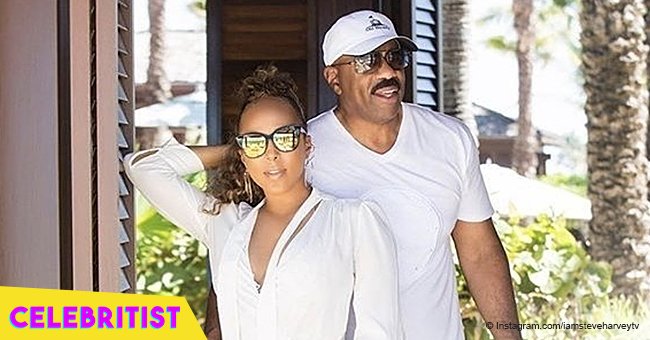 Steve Harvey and his kids are all smiles in recent pic from family vacation
The American comedian, television host, producer, radio personality, actor, and author is also a family man, with a loving wife and four children.
While Steve Harvey appears to have a busy career with a number of different shows and commitments requiring his attention, but that doesn't stop him from finding plenty of down time to spend with his wife and family.
Steve's wife Marjorie recently took to his Instagram account to share photo a lovely photo of himself and his entire family enjoying a vacation together.
The Family Feud host and his wife were just two of the eight people in the photo, which included all their children from their blended family and a beautiful seaside view in the background behind the cliff.
In the image, Steve wore a black t-shit with a white rose pattern across it, a pair of white jeans, and a matching white baseball cap.
Marjorie wore a black pair of trousers with a black shirt with an earthy colored pattern over her chest. She Also had on a long kaftan over it, with a brown pattern down the length, and a pair of reflective sunglasses.
The rest of the family all looked dressed for a summery vacation, with plenty of short sleeves and sunglasses in the image.
Marjorie didn't even need to captioned the lovely photo, in which the family was standing high up on a balcony with the cliftops and blue ocean in the distance behind them.
Another image shared by the television personality's wife just two days before seemed to indicate that the family was vacationing in Capri, just off the coast of Italy in the middle of the mediterranean.
The image showed them crowded around Steve, who was the only one sitting in a deck chair, with everyone dressed for a sunny day again.
Steve and Marjorie were caught up in yet more divorce rumors in early July. These rumors were rebuffed by the couple who jetted away on vacation just days later.
They never actually responded to the rumors, but made sure that fans knew they were headed on holiday by both sharing photos to their Instagram accounts showing them boarding a plane together.
Please fill in your e-mail so we can share with you our top stories!