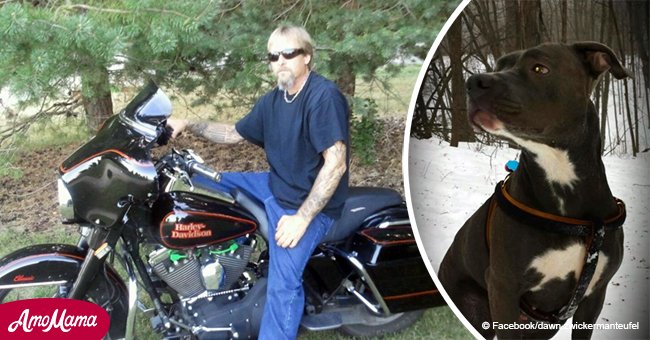 Man has both legs and parts of his hands amputated after being licked by his dog

Greg Manteufel, a man from West Bend, Wisconsin, had to have his four limbs amputated after being affected by a bacteria in his dog's saliva.
The 48-year-old had always been a very healthy individual but that didn't stop the bacteria, identified as capnocytophaga, from spreading a particularly severe and life-threatening infection throughout his body.
According to Fox 6 Now, Greg contracted the incredibly rare blood infection after being licked by his pet dog. Initially, he believed that he just had the flu but the diagnosis turned out to be way scarier than he expected.
Read more on our Twitter account @amomama_usa.
Dawn Manteufel, his wife, claimed that the disease 'hit him with a vengeance' and that he had bruises all over his body. Dawn said:
'Looked like somebody beat him up with a baseball bat.'
As a result of the infection, Greg's blood pressure dropped, lowering the circulation and reducing the flow of blood in his limbs, causing them to turn black.
Half of his forearms and his legs had to be surgically removed and doctors believe that he will need extensive repairs on his nose. The family has now set up a GoFundMe campaign in order to help cover the costs of Greg's medical procedures.
Dr. Silvia Munoz-Price, a specialist in infectious diseases, said that the infection triggered a 'very severed response' in Greg's body, which is something that practically never happens.
Munoz-Price added that 99 percent of people who own dogs or even interact with them are extremely unlikely to have the same issue as Greg and that it is all up to chance.
The Centers for Disease Control and Prevention, also known as CDC, states that symptoms can appear within the first three to five days, but it can also take up to two weeks for the symptoms to present themselves.
Among the listed symptoms are swelling, redness, fever, diarrhea, vomiting, headaches and muscle joint. People infected with the bacteria might also end up with blisters around the bite wound.
Please fill in your e-mail so we can share with you our top stories!