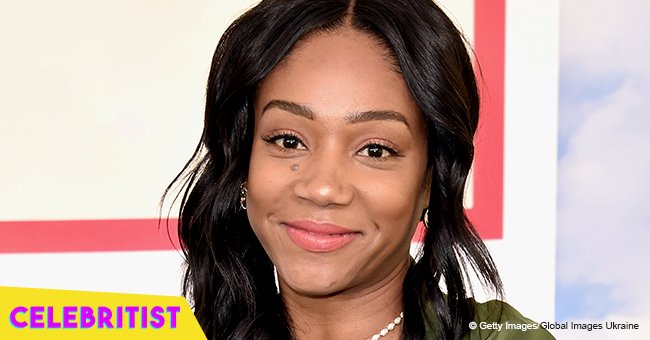 Tiffany Haddish steals the show with her fiery dance to Ciara's new song
After Drake's "In My Feelings" challenge died down on social media, Ciara's newest single "Level Up" started a new wave of dancing videos on the web. Thousands of people have uploaded their version of the dance, and Tiffany Haddish couldn't be left out of the trend.
The new social media craze has people all over the world learning and dancing the choreography to Ciara's "Level Up," originally created by 26-years-old sensation Parris Goebel.
Several artists, influencers, and non-famous folks have been posting their #LevelUpChallenge videos, and some have been lucky enough to get Ciara's attention.
The singer has been posting some of the better videos she has encountered on social media to her Instagram account, including Chris Brown's dancers, a father who found out his sick kid levels were getting better, and social media star Kwaylon Rogers's hilarious version of the music video.
Her most recent post features comedy actress Tiffany Haddish and "Marlon" star Bresha Webb. In the clip, the women are seen busting some moves as they danced to "Level Up" on the Hamilton stage in New York, hours before watching the famous play.
But Ciara wanted the challenge to be way more than just dancing, and that's why she has been encouraging her fans to share three ways in which they are going to level up their lives. Whether is working out, meditating or finally working on that project that has been in the back of their minds for too long.
Haddish and Webb offered their own level up ways, as Tiffany mentioned she will "get more sleep, drink less liquor and see more fantastic shows," and Webb added that she is going to pray, smile and love more.
Other celebrities that have joined the motivational challenge are Serena Williams, Janelle Monae, Chris Pratt, Macklemore, Kelly Clarkson. Missy Elliot and Ciara's husband, Russel Wilson.
"Level Up" is the first song Ciara releases in three years, and speaking to Entertainment Tonight at the ESPY Awards a few weeks ago, she revealed that she was hoping to inspire people through her music. She said:
"I'm so excited. The energy has been insane. It's really been on another level. It just feels good,"
and continued:
"It's been a while, and the fans have just been giving so much love back. With this song, my mission is to inspire the world to dance and to be their best and to make sure they're getting the best out of life."
The #LevelUpChallenge is still alive and thriving, so if you haven't tried it yet, the time is now.
Please fill in your e-mail so we can share with you our top stories!