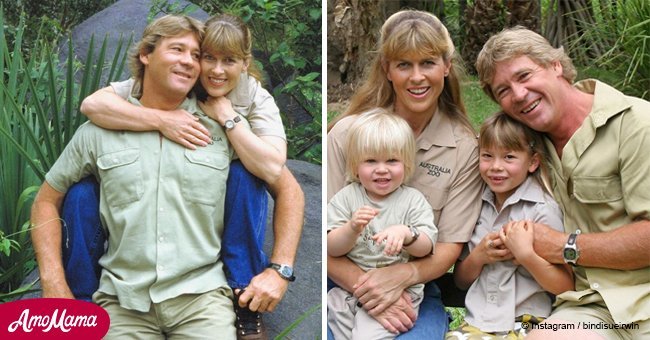 Terri Irwin shares heartbreaking story of how she found out about Steve's death
Terri Irwin broke into tears while she explained in an interview how she came to know about the death of her husband, Steve Irwin.
Famous as 'Crocodile Hunter,' Steve was out shooting a documentary off the Queensland coast in 2006, but it turned out to be his last project after a stingray pierced him in the heart.
Making an appearance on ABC's Anh's Bush with Fame, Terri revealed that she still remembered the last time she saw her husband before he set out to shoot his last documentary.
"I remember him at the airstrip waving goodbye. That was the last time we saw him," she told in the interview. Terri further explained that communication was not so good during those days. In Tasmania, especially, there wasn't much in range.
"I got to our destination for the night and they said 'you need to call your zoo manager,'" she recalled being told. She was then taken into a back room and the sad news was broken to her.
Follow us on Twitter to learn more.
As she battled her grief and the overwhelming outpour of emotions, she also had to think about how she was going to break the news onto her children.
She explained: "I just remember this incredible sense of responsibility, this feeling of overwhelming grief but 'what do I do next?' I kind of collected my thoughts and then had to go out to the car and tell Bindi and Robert ... which was really hard."
In the interview, Terri also talked about the surprising amount of support and condolences the family received following Steve's death.
Taking into account how Steve never considered himself to be "famous," Terri admitted that the huge outpour grief and love for Steve and the family would have surprised the Crocodile Hunter himself.
Toward the end of the interview, she recounted the positives of Steve and explained how he never allowed fame to get on to him. He was never pretentious and never "big-noted" himself.
Please fill in your e-mail so we can share with you our top stories!