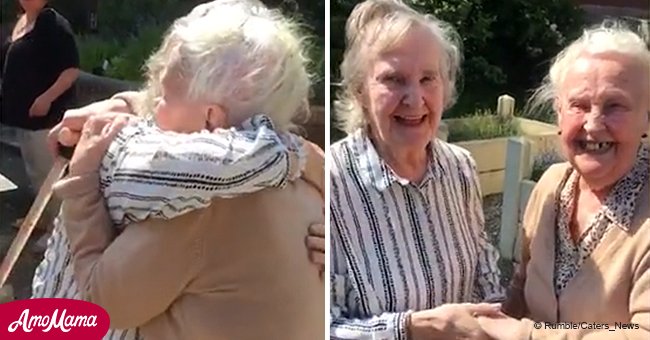 Touching moment two sisters with Alzheimer's see each other for the first time in 15 years
Hearts melted when sisters Ann Patrick and Marguerita Wilson, both afflicted with Alzheimer's disease, reunited after 15 years of being apart.
A video posted to YouTube shows the two elderly women in high spirits as they warmly embraced each other.
Marguerita, 88, whose condition is not as advanced as Anna's, could not hold back her tears. Care home nurses and family members were also moved to tears.
Follow us on our Twitter account @amomama_usa to learn more.
The sisters managed to reunite with the help of Ann's granddaughter, Louise, who met Marguerita by chance when she went to the Alzheimer's club.
Louise noticed that Marguerita has a lot of similarities with her grandmother, particularly their looks and accent.
Bothered by the two old women's resemblance, Louise decided to dig deeper into Marguerita's background.
She then made the discovery that Marguerita was Ann's long-lost sister. The pair had not seen each other for 15 years.
Louise learned that Ann and Marguerita are two of five children born in Antwerp, Belgium to an English mother and a Belgian father. Their parents broke up when Ann was only eight years old and Marguerita was 16.
Louise quickly reached out to Marguerita's daughter and arranged a meeting between the two sisters at Ann's care home in Wiltshire.
Delighted to hear about Ann, Marguerita's daughter quickly agreed to arrange the meeting.
The reunion turned out to be an emotional one. It's fascinating how two women with Alzheimer's disease could still clearly remember each other. The disease could not weaken the pair's sisterly bond.
Alzheimer's disease is the most common cause of dementia, according to the Alzheimer's Association.
Dementia is a general term for memory loss and other cognitive abilities serious enough to interfere with daily life.
Alzheimer's, which worsens over time, accounts for 60 to 80 percent of dementia cases. It has no current cure but research continues.
Please fill in your e-mail so we can share with you our top stories!