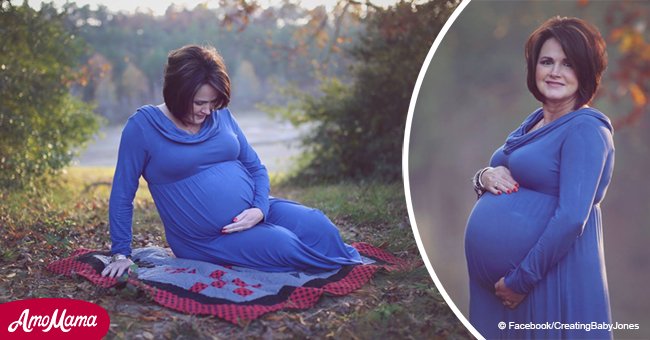 Woman gives birth to her own grandson, despite being menopausal
A 50-year-old woman gave birth to her grandson after she became her daughter-in-law's surrogate.
Kayla Jones married her husband Cody Jones in 2012 knowing that she would never be able to become a mom and would be in the necessity of using a surrogate to carry their children. However, she and her husband wanted to have a child.
According to a LoveWhatMatters report, Kayla knew that she wouldn't be able to give birth to her own child from a young age but she didn't worry too much about it at the time.
When she was just 17, her doctor discovered a tumor that required the partial removal of her uterus. She graduated from high school knowing she wouldn't become a mother the conventional way, but it seemed like a concern for the future.
However, Kayla started dating her now-husband around that time and said the family has always been supportive as they explored surrogacy and adoption, but when they encountered let-down after let-down, they started to feel hopeless.
That's when Patty Resecker, Cody's mom, stepped in an offered a crazy idea. "My husband and I married in 2012 and my mother-in-law always joked about being our surrogate," said Kayla. Read more on our Twitter account @amomama_usa
Kayla started doing some research into the concept and found other instances where grandmothers had successfully acted as surrogates.
"After a couple of our surrogate options did not work out, we started to take my mother-in-law more seriously," she explained.
Doctors had to approve Patty being the gestational carrier of the child and sadly, their first embryo transfer failed told Kayla to LoveWhatMatters.
But they didn't desist and their reaction when they learned that their second embryo transfer was successful was just priceless. That meant Patty was now carrying her son's child.
Seven months later they would be welcoming their first child into the world. Fortunately, everything turned out great and Kross Allen Jones was born on December 30 by C-section, as Kayla told LoveWhatMatters.
The grandma said, "I've recently had the privilege of doing one of the most rewarding things: to carry my own grandchild for my son and daughter-in-law. This is something that has blessed not only me and my family but also Kayla's family."
Please fill in your e-mail so we can share with you our top stories!