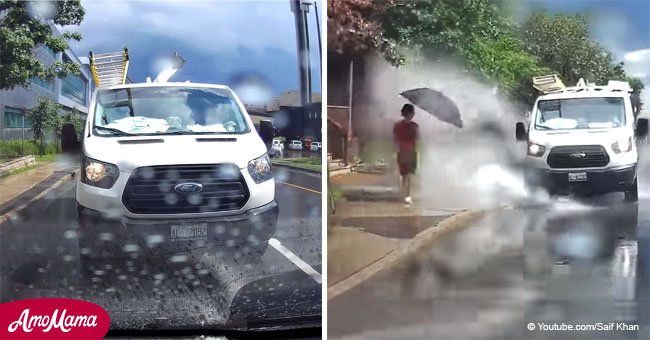 Canadian driver who deliberately splashed pedestrians fired from his job
A Canadian driver who was filmed on camera intentionally soaking pedestrians by driving into puddles as he passed them, was dismissed from his job by Black & McDonald.
A video uploaded on YouTube on July 27, 2018, showed an unnamed van driver's antics in Ottawa, Ontario, captured by another car's rear-facing dashboard camera.
The driver was caught deliberately drenching people walking on the sidewalk by driving deep into puddles while driving through the streets of the Canadian capital city at around 3:25 p.m.
In the 45-second video, the driver, an employee of Black & McDonald, is seen driving a white van.
He drives straight through large puddles of water on the side of the road, splashing four out of the five pedestrians seen walking on the sidewalk.
The first two of the four people who become a target of his irrational behavior are unsuspecting pedestrians carrying umbrellas as they are seen crossing the street.
After drenching these people on purpose, the driver straightens his course and drives in the middle of the lane.
He then spots another umbrella-carrying pedestrian, at which point the driver swerves to the right side of lane again to splash water on the person, who only just manages to protect himself from the sheet of water heading his way.
The driver sees another target and does not miss the opportunity to drive the van to the center of the lane again to splash some water, who escapes the as the puddle does not turn out to be very deep.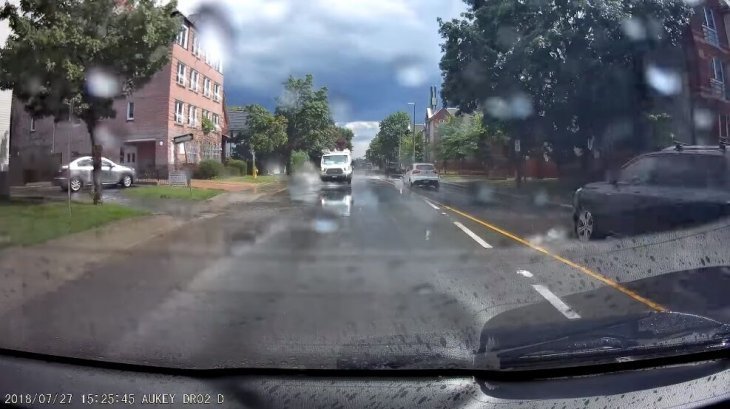 Source: YouTube / dashcam 07 27 18
Thanks to the clearly-visible license plate and the van logo, people rushed to complain about the driver's unruly behavior to the van owners, which turned out to be Canadian contractor company, Black & McDonald.
Two days after the video had been uploaded and went viral, the driver's company, Black & McDonald, publicly announced that the person was no longer working for them.
'We apologize to everyone impacted by the recent incident in Ottawa of unacceptable driving by one of our van drivers. We want to reassure the public that safety is our #1 priority. This is an isolated incident and the individual is no longer employed with Black & McDonald.'
Black & McDonald, Facebook, July 30, 2018.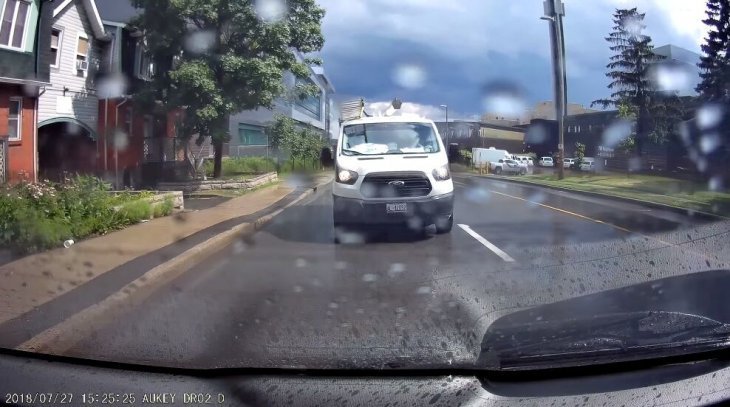 Source: YouTube / dashcam 07 27 18
The driver will not only suffer the loss of his job, but he could also face criminal charges including mischief or assault according to Ottawa police Sgt. Mark Gatien. "There's no doubt it was a deliberate action," he told the Ottawa Citizen.
Sgt. Gatien said that the weight of the water being splashed at the pedestrians could have led to injuries, which could warrant an assault charge on the driver.
Please fill in your e-mail so we can share with you our top stories!