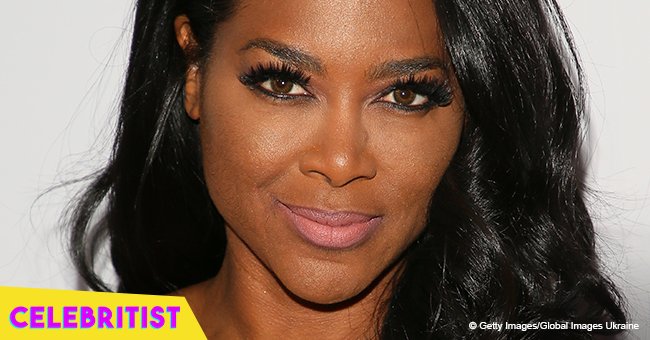 Kenya Moore's supporters protest in video after reality star gets fired from 'RHOA'
The clamor for Kenya Moore's return to 'Real Housewives of Atlanta' has escalated as her supporters rally in protest in New York City. The reality star has confirmed she won't be back in the show due to financial reasons.
Kenya Moore has confirmed that she's no longer returning to 'The Real Housewives of Atlanta' and a handful of her fans have rallied in protest.
A video taken outside the NBC headquarters in New York City on July 31 revealed five supporters of the pregnant star fighting to keep her on the show. All five were chanting "Boycott Bravo!" and "Kenya Moore, Team Twirl!" while holding up RHOA posters and a sign that read "#BringKenyaBack." At one point, the protesters yelled, "Who do we want? Kenya! Bring Back Kenya Moore!"
Kenya was not in attendance but she already laid out her stand on the matter. On July 25, the reality star responded to a fan's inquiry if negotiations for her return to the show were successful. In reply, she tweeted,
"Nope... was never offered a friend role, just friend [dollar sign] to do the same job and show family and baby story. No movement in negotiations but not to worry... a girl has options just in case"
The day before, another fan also revealed she wasn't' going to watch 'RHOA' without Kenya. She was disappointed that the 47-year-old wasn't going to be part of the upcoming season which would have been the climax to her story. To this, Kenya tweeted,
"I feel you, as a fan I wholeheartedly agree this would be the pinnacle of my tenure on the show. The fans deserve to see my happy ending... unfortunately, it's not up to me. Maybe I should have committed some crimes."
As for how she feels about her exit from the show, Kenya candidly admitted to a fan who asked if it hurt that she was indeed hurting.
"To be honest yeah it does [hurt]. A dream would be to have everything aligned for once in my life... falling in love, getting married, having a baby, businesses thriving and work life... all at 47 God will have my back."
Meanwhile, Kenya's pain should soon be overshadowed by the arrival of her unborn child with her husband Marc Daly. She announced her pregnancy in March and has been enjoying her life as an expectant mom. Fans can rely on the knowledge that the star is happy despite the loss of her show.
Please fill in your e-mail so we can share with you our top stories!