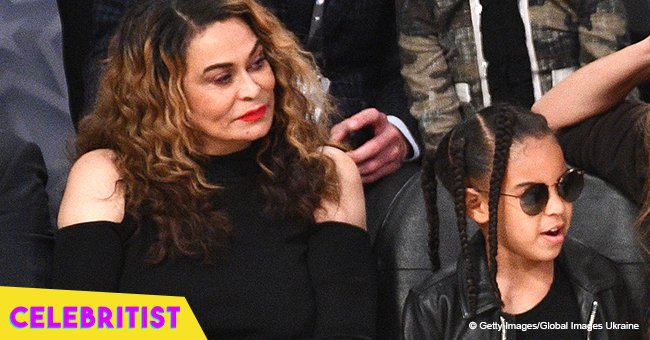 Tina Lawson shares video montage of granddaughter Blue Ivy, admiring her little voice

Tina Lawson, Beyoncé's mother, took to Instagram to share a video showing several short recordings of her family, especially Blue Ivy, one of her granddaughters.
In the post, short videos of a much younger Blue Ivy, Beyoncé, and Jay-Z were shown. However, the most adorable aspect of it was Blue's voice as she was heard saying fun things throughout the whole presentation.
One of the recordings portrayed Beyoncé on a yacht looking down at the water and Blue asked her: 'Do you know how to… do you really know how to swim?'
A different video displayed Tina in a beautiful theatre in Paris recording herself saying that it was the most astonishing building she had ever been in her entire life.
She turned the camera so her followers could take a better look at the building, but Blue could be heard saying: 'You're not supposed to take videos grandma.' Tina ignored what her granddaughter said and kept recording, but Blue repeated: 'You're not supposed to.'
As soon as the proud grandmother uploaded that video, her fans and followers took to the comment section to share their thoughts.
One of them was Instagram user @themost1908, who confessed they loved when Beyoncé put her on her song and Blue was trying to say her mother's name, but she just said 'mommy, mommy, mommy.'
That cute video was shared a couple of days after Blue was spotted playing with her little brother, Sir, while on their family vacation. The Carters spent almost two months in Europe due to the couple's On the Run II tour.
After that part of the tour ended, they all took a short break before coming back to the U.S. for the second leg of the tour. During those free days, the family went to the Amalfi Coast in Italy and enjoyed a day on a luxury yacht.
Daily Mail shared some photos taken during their outing and one of the most interesting aspects of it was Blue, who was holding a beach ball in front of Beyoncé and Sir as if she was playing with her baby brother.
Beyoncé and Jay-Z have welcomed three children to the world so far: six-year-old Blue and one-year-old twins Sir and Rumi.
Please fill in your e-mail so we can share with you our top stories!